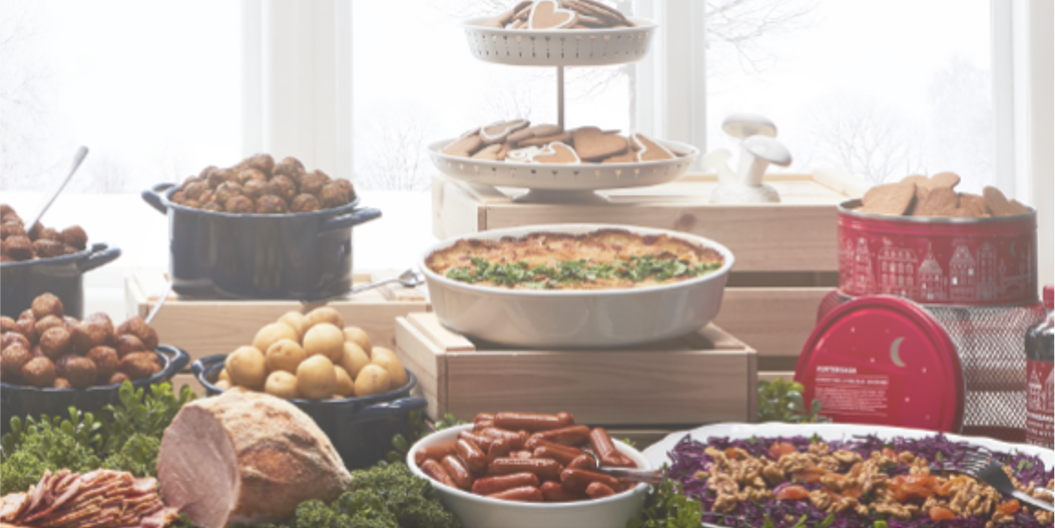 Past event
Swedish Christmas buffet at IKEA Harajuku
18 December 2020 19:00 - 21:00
(日本語は英語の後に続きます)

IKEA Harajuku is inviting all SCCJ Members and their guests for an evening with Swedish Christmas food, drinks and Christmas music. We have reserved 50 seats for this special evening.
The food and drinks will be served in a buffet style setting with all-you-can-eat. One alcoholic drink is included in the price. Additional drinks can be purchased for 400 JPY per drink.
MENU
Hot food

Meatballs, Plant balsl ,X'mas Ham, Salmon fillet, Four kinds of Sausages,Roast beef, Mashed potato w/ truffle, Kebabpizza, Tunnbrödsrulle.

Cold food

Jamon serrano ham, Salami, Emmental cheese, Camembert cheese, Olives, Walnuts, Marinated salmon, Lumpfish egg, Shrimp salad egg, Herring and Green salad
Desserts
Strawberry tart , Buche de Noel, Very berry Cheese cake, Ginger cookies, Fresh strawberries
Soup/bread
Minestrone soup, Three kinds of Bread, Crispbread, Saffron rolls and Cinnamon rolls
Drinks
Welcome drink :Glögg wine
Alcohol: Mini bottle (red/white), beer on tap, Omnipollo low-alcohol beer (1 drink service)
Soft drink: Nordic water (various sparkling soft drinks), coffee
INFORMATION
This event is organized by IKEA Japan. Reservations to participate is done on a first-come, first-serve basis. Register by December 11 at the latest. Cancellations can be done until December 11.
All reservations after December 11 will be charged. The store will be open for regular customers until 20:00.
IKEA原宿では、SCCJ会員及びそのゲストの皆様を、スウェーデンのクリスマスフード・ドリンク、そしてクリスマスソングをお楽しみいただけるイベントにご招待いたします。この特別イベントは、50名様限定での開催となります。
食べ物及びドリンクはビュッフェスタイルでの提供となります。参加料金にはアルコールドリンク一杯が含まれています。追加のドリンクは一杯400円でご利用いただけます。
ご注意
こちらのイベントはIKEA Japanが主催いたします。お申し込みは先着順となりますので、参加ご希望の際はお早めにお申し込みください。申込期限及びキャンセル期限は12月11日までとなります。12月11日以降はキャンセル料が発生いたしますことを予めご了承ください。IKEA原宿の通常店舗の営業時刻は20時までです。

メニュー
温製料理
ミートボール、プラントボール、クリスマスハム、サーモンフィレ、
4種のジビエソーセージ、ローストビーフ、トリュフマッシュポテト、
ケバブピザ、ツンブロード各種
冷製料理
生ハム各種盛り合わせ、チーズ各種盛り合わせ、サーモンマリネ、
ボイルドエッグのランプフィッシュキャビアのせ、カナッペ各種、
プラントベース 茄子のへリング、グリーンサラダ
デザート
ストロベリータルト、ブッシュドノエル、ベリーベリーチーズケーキ、
ジンジャークッキー、フレッシュイチゴ
スープ・パン
ミネストローネ、プラントベースブレッド3種、クリスプブレッド、
シナモンロールサフランロール
お飲み物
ウェルカムドリンク :グロックワイン(スパイスワイン)
アルコール     :ワインミニボトル(赤白)、生ビール、オムニポロビール各種 から1ドリンクサービス
ソフトドリンク   :ノルディックウォーター、コーヒー
Friday December 18th, 19:00 - 21:00
1-14-30 Jingumae, Shibuya-ku, Tokyo
For SCCJ Members and their Guests. You are requested to pay the fee at the reception. Registration opens at 18:50.