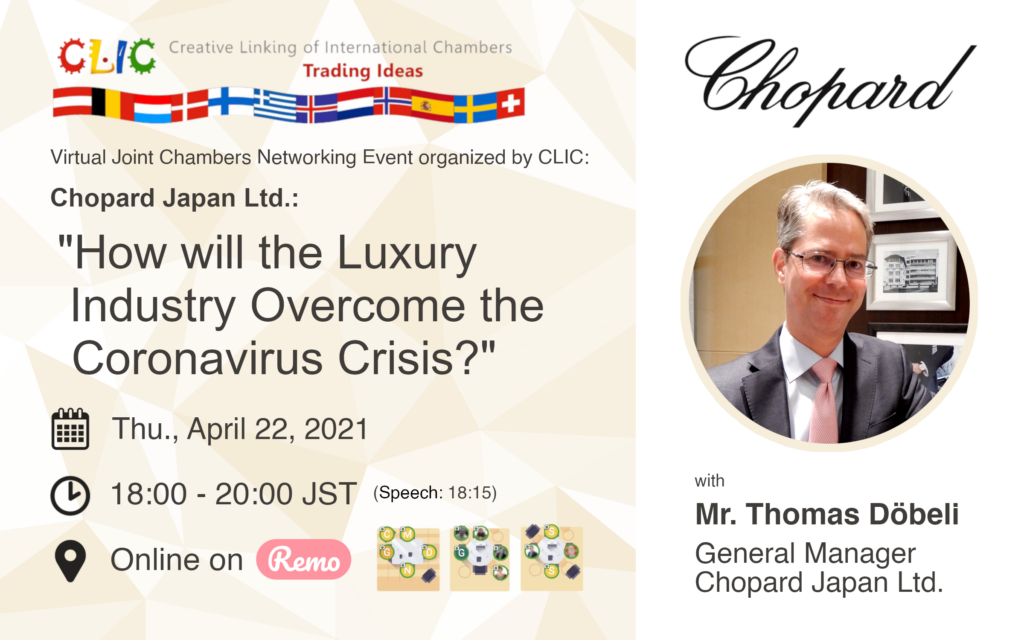 Past event
CLIC – Virtual Interchamber Networking Event with Mr. Thomas Doebeli, Chopard
22 April 2021 18:00 - 20:00
The SCCJ, together with the Austrian Business Council, the Spanish, Belgian-Luxembourg, Danish, Dutch, Greek, Finnish, Icelandic, Norwegian and Swiss Chambers, is pleased to invite you to the 9th CLIC Event. Due to the current uncertainties caused by COVID-19, the event will take place online on Remo.co

At the 9th CLIC Event, Mr Thomas Döbeli, General Manager of Chopard Japan Ltd., will speak on the topic "How will the luxury industry overcome the coronavirus crisis?". He will give an overview on the luxury industry and Chopard specifically, address the major trends triggered and accelerated by the coronavirus crisis, and share his views on the future of the luxury industry. Finally, he will introduce concrete examples of Chopard, including a new global campaign to be launched on April 20, 2021, before answering questions from the audience.

Remo allows the participants to chose their virtual table, so please stay online after the presentation for some online networking.
We are looking forward to welcoming you to the first virtual CLIC event!


About Chopard




Le Petit-Fils de L.-U. Chopard & Cie S.A., commonly known as Chopard, is a vertically integrated manufacturer and global retailer of high-end luxury watches, jewelry and accessories. Founded in 1860 by Louis-Ulysse Chopard, the Maison has been owned and managed by the Scheufele family since 1963 and is located in Geneva, Switzerland. Chopard is the official partner of the Mille Miglia classic car rally since 1988 and the Cannes Film Festival since 1998. Pioneering the industry, the company announced the "Journey to Sustainable Luxury" in 2013 and is the first luxury brand to produce its entire jewelry and watch collections using 100% ethical gold since 2018. Chopard is "The Artisan of Emotions – since 1860".


About Mr Thomas Döbeli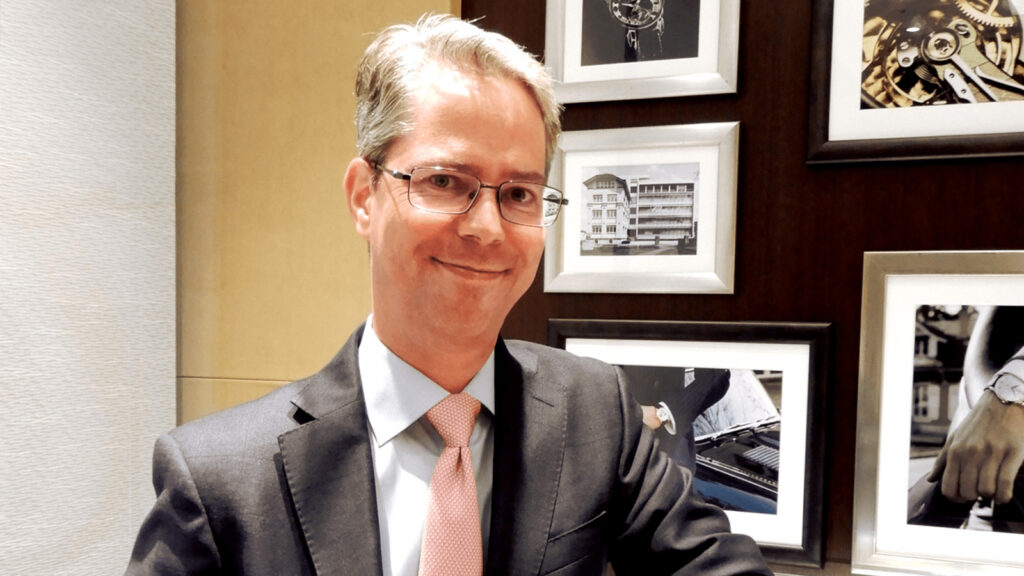 Mr. Thomas Döbeli, General Manager at Chopard Japan Ltd., was born in Switzerland in 1973 and graduated from the University of Zurich. He moved to Japan in 2002 and has been working for Chopard since 2014, after positions at other major luxury jewelery and watch brands. He gives guest lectures about the luxury industry and related topics at Hitotsubashi ICS, The Economist, Kyoto University and others. Mr. Döbeli lives with his wife and two kids in the Shonan area, is a member of the SCCIJ and Vice-President of the Japan Swiss Society.




How to use Remo.co:
There is a quick and snappy 3-minute video showing you how to use Remo within the event to be found here. Remo is best used on a desktop PC or notebook but can be used on a smartphone too. An automatic technical check for your pc can be done from here.


Organizers



Thursday April 22nd, 18:00 - 20:00
.......
Free of charge for SCCJ Members.
Free of charge for SCCJ Members.
This event is for SCCJ Members only.