Past event
[DARE TO THINK DIFFERENTLY] A Spotify Perspective On Things
27 May 2021 15:00 - 16:15
Diversity & Inclusion, Working from Home, Creativity, US President's playlists – well, with Spotify you can talk about just anything! Welcome to an event where we meet Katarina Berg & Michael Kim, both from Spotify, who will share their insights from one of the world's most innovative companies. Katarina and Michael are both HR professionals, but at Spotify, HR is part of the business so it will be relevant for anyone working and interested in BUSINESS.
Since Spotify is often doing things in a different way and not like everyone else, so why would we? This talk will be unique – on stage, we have the people asking the questions, by link from Sweden and Australia we will have the main speakers.
The one-hour talk will focus on 3 different areas:
1. PEOPLE FIRST - A WAY TO DRIVE BUSINESS

Spotify dares to think differently. What is the story behind their progressive parental leave? How is diversity & inclusion part of the culture? What does it mean to operate with speed? How do we achieve work-life balance? And how does it impact people when you add business revenue streams?
2. WORKING FROM ANYWHERE

We today face new challenges while doing business. How does Spotify build teams in this new world? Can you really CONNECT virtually and MOTIVATE remotely in an efficient way? What is the new normal? We will also talk about "The Band Reunion – the Spotify way to address culture and values in a sustainable way.
3. CRISIS MANAGEMENT - LEARNING FROM COVID AND LEARNING FROM FAILURES
The questions will be asked by a panel from the SwedCham's HR Community Group
The answers will be given by:
- Katarina Berg, CHRO, Strategy Operations, Global Workplace Services
- Michael Kim, Head of HR JAPAC
---
Speaker Profiles

Katarina berg
CHIEF HUMAN RESOURCES OFFICER AT SPOTIFY
Katarina Berg has been heading up Spotify's global HR team and she is also head of the company's Global Workplace Services and Strategy Operations teams. She's been with the company since 2013, leading the talent transformation during the business transition from startup to a mature international company.

Before Spotify, Katarina held high-profile HR roles in various multinational companies, such as Preem, Swedbank, Kanal 5 (SBS Broadcasting) and 3 (Hi3G Access).

As well as catering to the people needs of a diverse, nimble and ever-changing organization, Katarina is also focused on building teams and reinventing processes to establish an environment where creative and passionate people can be their very best, have fun and develop great careers. Outside work Katarina loves to spend time in the archipelago. When she is not eating her way into new cultures or cooking for friends and family, she dreams of the days back when she travelled the world whitewater rafting.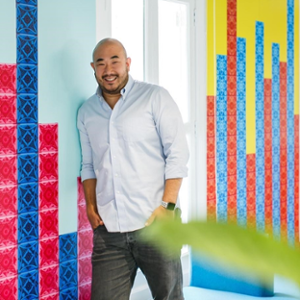 Michael Kim
HEAD OF HR JAPAC AT SPOTIFY
Michael is a highly accomplished global Human Resources leader with over 18 years of experience in strategizing and implementing global talent initiatives that drive business results and improves both employee and company performance. Michael currently serves as Spotify's Head of HR for JAPAC (Japan, India, South East Asia, South Korea, and Australia/New Zealand), where he is responsible for driving the overall people strategy of the region. His innovative design of Spotify's revamped parental leave program has received global recognition for taking the #leadonleave for companies supporting families, establishing work-life balance, and driving inclusivity within the workplace.

Michael has worked across a broad spectrum of industries including Technology, Investment Banking & Markets, Media, and Advertising. Prior to joining Spotify, Michael was a Vice President of Human Capital Management at Goldman Sachs, where he was responsible for leading strategic people initiatives across the Technology & Engineering division globally.
Thursday May 27th, 15:00 - 16:15
...
Free of charge for SCCJ Members
Free of charge for SCCJ Members
This event is for SCCJ Members only. This event is organized by the Swedish Chamber of Commerce in Hong Kong.