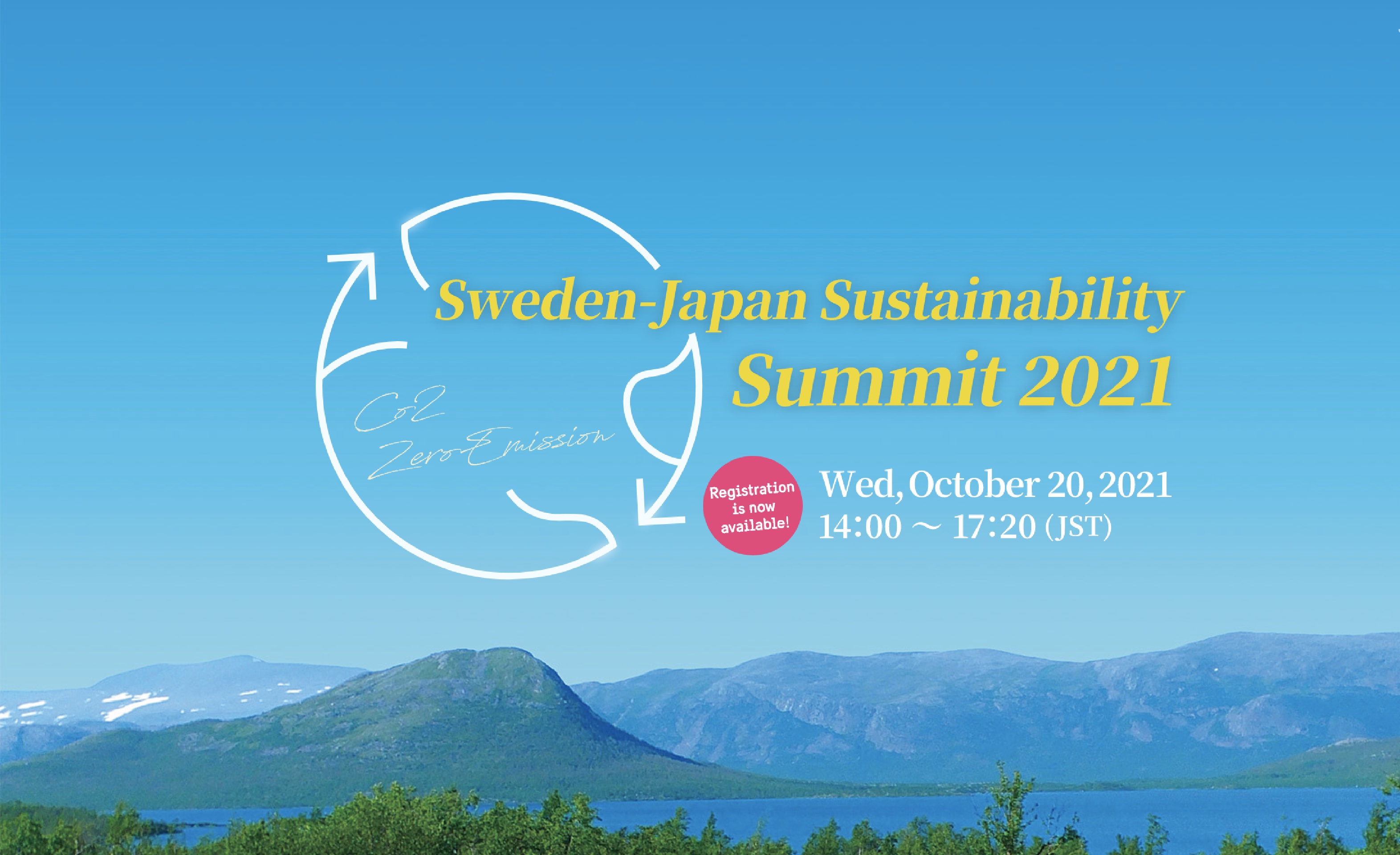 Past event
Sweden-Japan Sustainability Summit 2021
20 October 2021 14:00 - 17:20
(日本語は英語の後に続きます)


MESSAGE
Sweden and Japan join forces to find new ways to tackle sustainability challenges.
For years you have heard about initiates from Swedish activists, companies, scientists and public sector leading the way on sustainability. Now is the time for Sweden and Japan to join forces, by working together cross sectors and borders we can achieve more faster, as we are racing against advancing climate change. Please join us to pioneer the possible and become sustainability pioneers. We will share experiences and inspiration from Sweden and Japan to show that radical actions are possible and invite you to join a cross-sector and cross-border team of sustainability pioneers! The more can join the better for the planet!
Sweden's minister of Infrastructure will be joining this high level summit remotely from Sweden.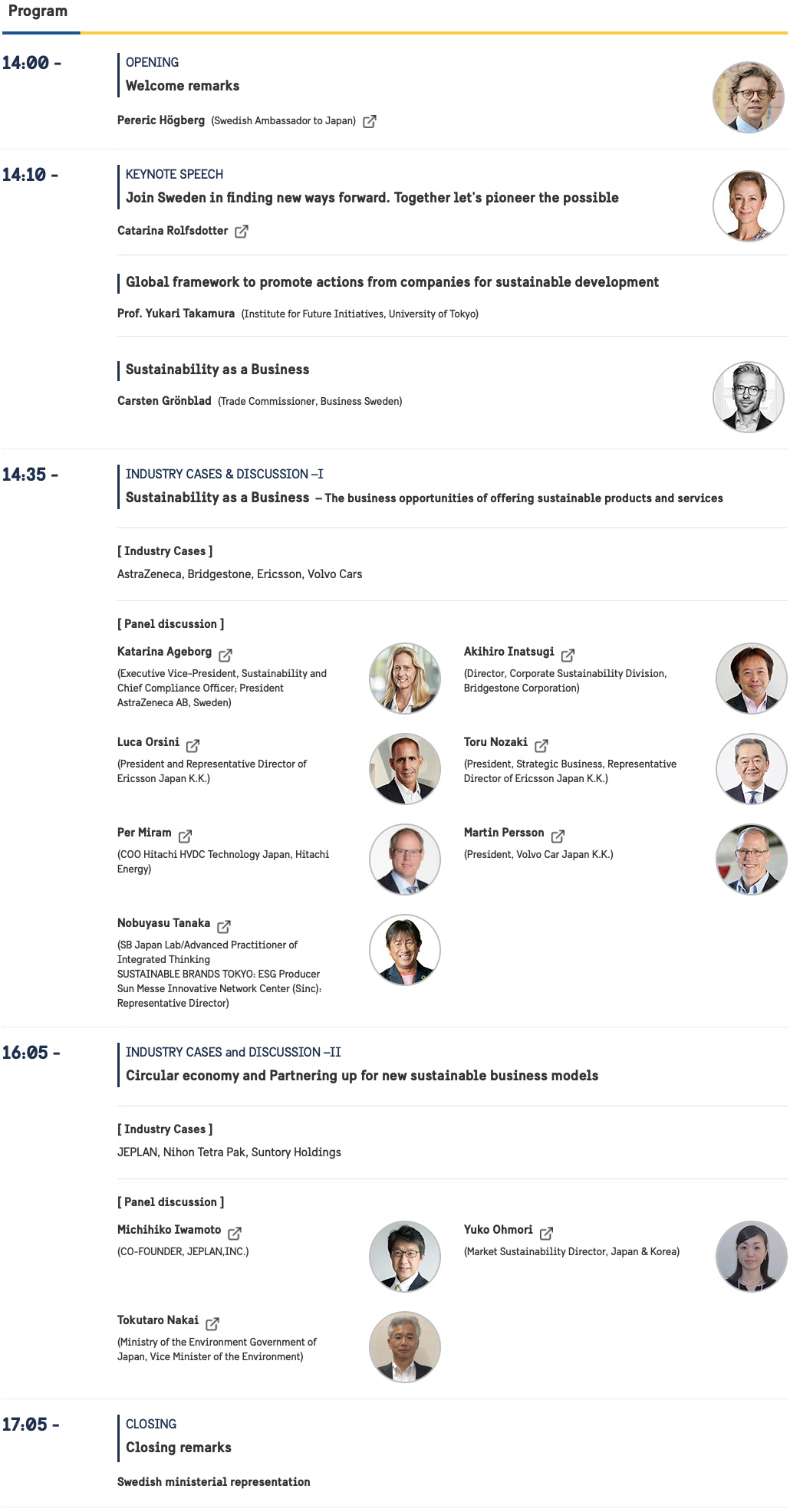 CONTACT
Sweden-Japan Sustainability Summit 2021 management department
Medical Conference Center Osaka TOBU TOPTOURS CO.LTD.
mail : sjss2021@tobutoptours.co.jp


MESSAGE
スウェーデンと日本が力を合わせて、サステナビリティの課題に取り組む新しい方法を模索します。
ここ数年、スウェーデンの活動家、企業、科学者、公共部門がサステナビリティの分野で主導的な役割を果たしていることはよく知られています。今こそ、スウェーデンと日本が力を合わせる時です。
セクターや国境を越えて協力することで、気候変動の進行に立ち向かうために、より早くより多くのことを達成することができます。可能性を追及し、サステナビリティの先駆者となるために、ぜひご参加ください。私たちは、スウェーデンと日本の経験とインスピレーションを共有し、抜本的な行動が可能であることを示すとともに、セクターや国境を越えたサステナビリティ・パイオニアのチームに参加していただきます。仲間が増えれば、地球のためにより多くのことができます。
本サミットは、スウェーデンのインフラストラクチャー大臣がオンライン参加されるハイレベルなサミットです。
皆様の参加をお待ちしております。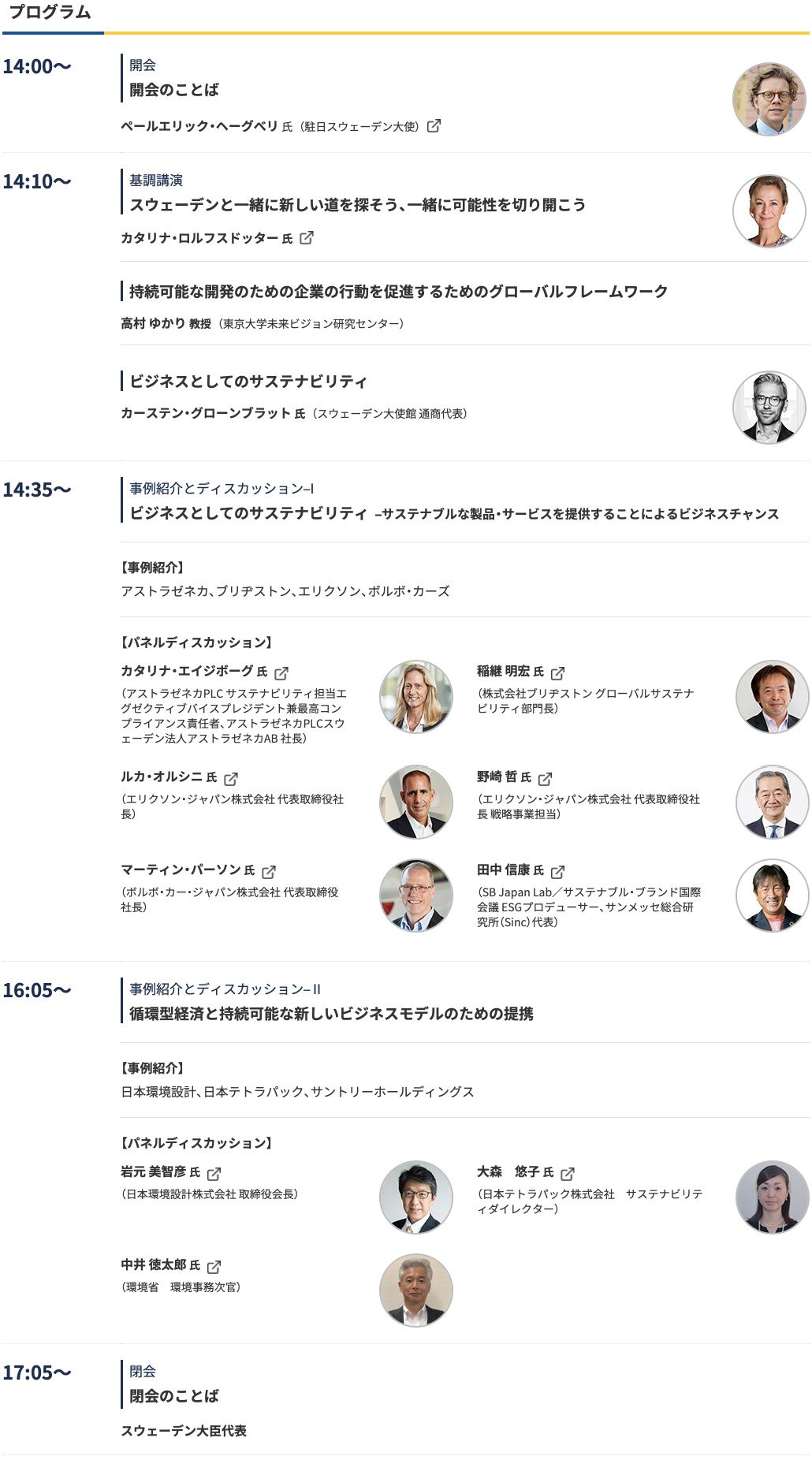 お問い合わせ
Sweden-Japan Sustainability Summit 2021 事務局
東武トップツアーズ株式会社 メディカルカンファレンスセンター大阪内
mail : sjss2021@tobutoptours.co.jp
Wednesday October 20th, 14:00 - 17:20
...
Free of charge for SCCJ Members
Free of charge for SCCJ Members
This event is for SCCJ Members only. Please register before October 19th (Tuesday) at the latest. 当イベントはSCCJ会員のみとなります。 参加登録の締め切り日は10月19日(火)です。