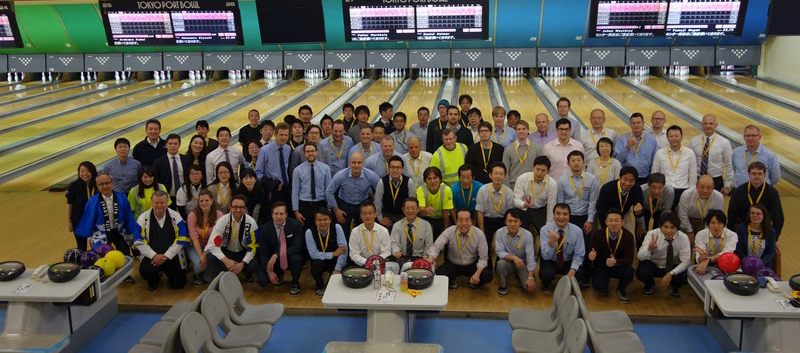 Past event
Joint Nordic Team Building Bowling Competition 2017
28 February 2017 19:00 - 22:00
-Everyone, get on the lanes Feb. 28th, 2017! (New Date)
Here is the sports event you all have been waiting for! -What better way than to start the year by bonding with your colleagues and friends?! Professional bowlers, beginners are equally most welcome!
Just like the last time, we play by team of 4 people. You can either enter with a team from your company, or as an indivdual. Individual participants will play in teams set up by SCCJ. We play together with other chambers such as FCCJ, ISCCJ and NCCJ! Team participation with your company staff, spouses are very welcome!
Please also bring some prizes for the award ceremony. Same quantity as your participating team members. It could be your company's novelties or anything. Just something simple.
Please register by Monday, February 13th, 2016.
Last year's winner and holder of the trophy is Scandinavia Corporation. -Make a team to make sure they don't keep the trophy this year again.

Date: Thursday, February 28th, 2017 NEW DATE!!
Time: 19:00 - 22:00 (Please try to arrive 15 minutes before start)
Venue: Tokyo Port Bowl in Shibaura (Tamachi) (Prel.)
1-13-10 Shibaura, Minato-ku Tel: 03-3451-9211
(near JR Tamachi Station) http://www.tokyoportbowl.com/
Cost: JPY6,000/person (incl. 2 games play fee, and party fee afterwards)
Registration: Either by clicking on the "Sign-up" tag above (members only), or by email to office@sccj.org
Notes: For the award ceremony, please don't forget to bring prize items. One item per participant.
For any questions, please feel free to ask the SCCJ Secretariat.
Hope to see many of your happy faces there!
Tuesday February 28th, 19:00 - 22:00
1-13-10 Shibaura, Minato-ku, Tokyo
JPY6,000/person (incl. 2 games play fee, and party fee afterwards)
JPY6,000/person (incl. 2 games play fee, and party fee afterwards)
For the award ceremony, please don't forget to bring prize items. One item per participant