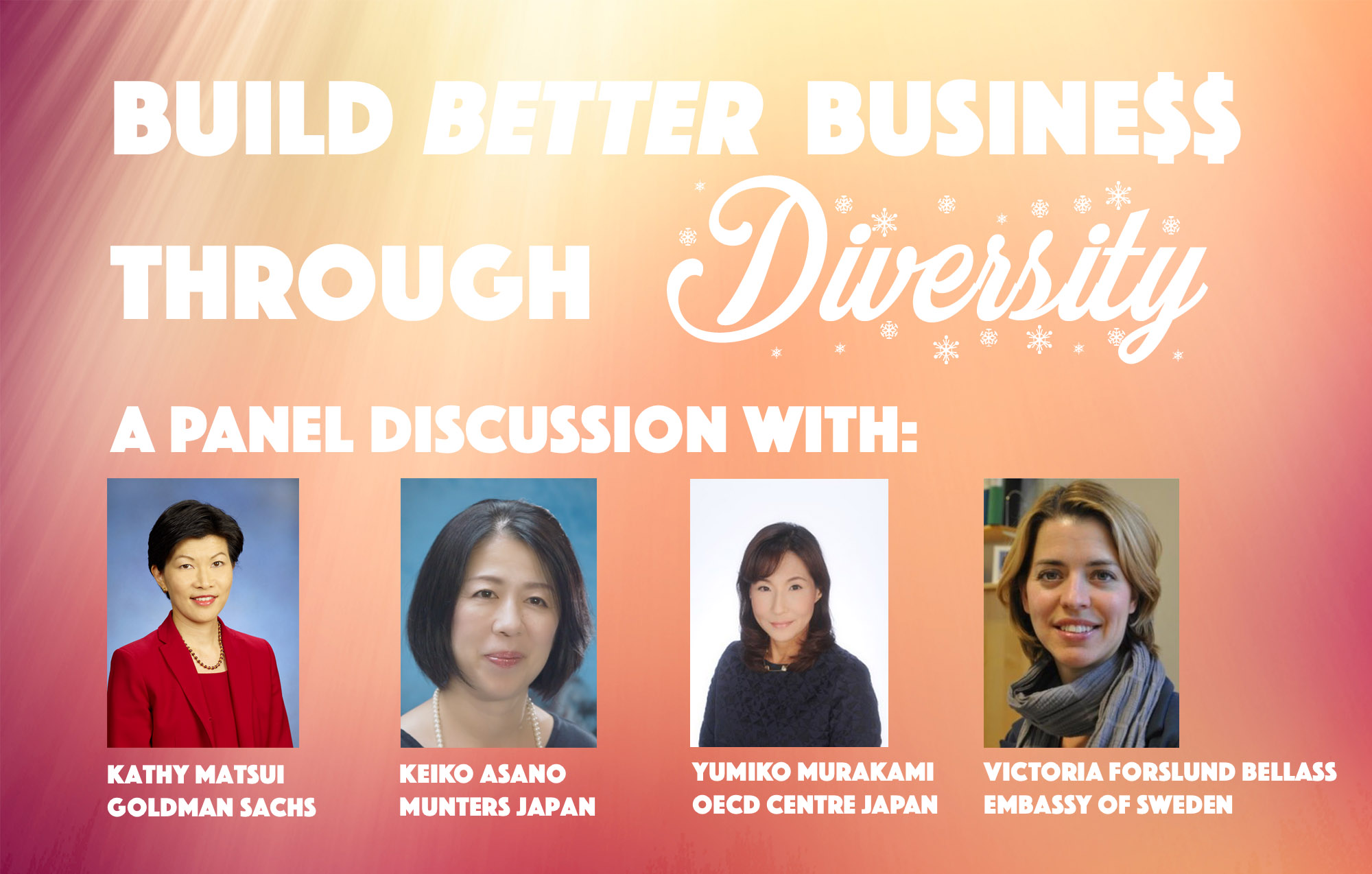 Past event
Panel Discussion: Build better business through diversity
08 March 2019 19:00 - 21:00
Embassy of Sweden, Auditorium
(日本語は下記に続きます)
Join us to celebrate the 1-year anniversary of Women's Impact Network (WIN) and the International Women's Day together with high-profiled panelists!!
The topic of discussion is "Build better business through diversity".
Why is it better for companies to have a balanced and diversified workforce?
Why should a leadership team be balanced?
How can men in working places today support that we get a more balanced workforce?
What to look for when hiring?
Panelists:
Kathy Matsui, Vice Chair, Goldman Sachs
Yumiko Murakami, Head of OECD Tokyo Centre
Victoria Forslund Bellass, Minister-Counsellor, Embassy of Sweden
Keiko Asano, General Manager, Munters,
Moderator : Melina Kalandaridis, CFO, Ericsson Japan
<Profile>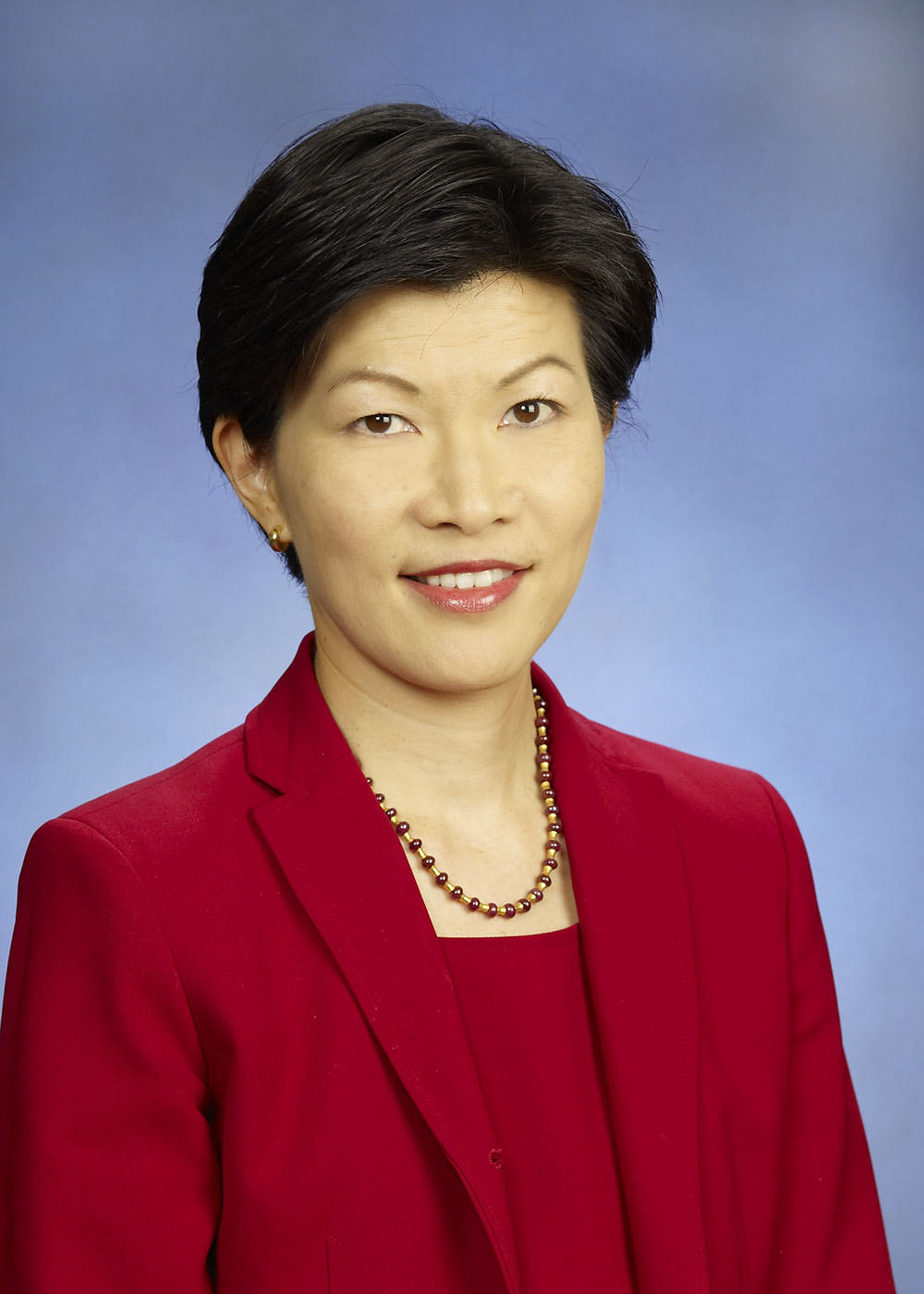 Kathy Matsui
Vice Chair of Goldman Sachs
Kathy joined Goldman Sachs in 1994 and named managing director in 1998 and partner in 2000. She&nbsp;was ranked No.1 in Japan Equity Strategy by Institutional Investor magazine in multiple years, she was chosen by The Wall Street Journal newspaper as one of the "10 Women to Watch in Asia" for her work on the "Womenomics" theme, and she was also named to Bloomberg Markets magazine's "50 Most Influential" list in 2014. Kathy has served on numerous government committees aimed at promoting gender diversity in Japan. She is a board member of the Asian University for Women (AUW) Support Foundation, chair of the Board of Councilors (Japan) of the US-Japan Council, director of the Fast Retailing Foundation, member of the Council on Foreign Relations, member of The Nation Conservancy-Asia Pacific Council, and member of Keizai Doyukai. She also serves on the Advisory Council for the Japan Society Fund Against Breast Cancer. Kathy earned an AB, magna cum laude<, in Social Studies from Harvard University and an MA from Johns Hopkins University, School of Advanced International Studies.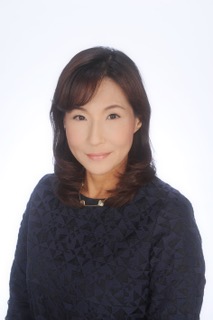 Yumiko Murakami
Head of Tokyo OECD Centre
Since Yumiko joined OECD in 2013 as the head of OECD Tokyo Centre, she has been at the forefront of policy discussions between OECD and governments, businesses and academia in Japan and Asia, covering a wide range of economic policy issues. She has been leading discussions with various stake holders in Japan and Asia, particularly in the areas of Corporate Governance, tax guidelines, gender diversity, education, international trade and innovation. Prior to joining the OECD, Yumiko held a number of leadership positions as a Managing Director at Goldman Sachs and Credit Suisse. Yumiko has diverse professional experiences, ranging from banking in New York and London to UN Peace Keep Operations in Cambodia. Yumiko has an MBA from Harvard University, MA from Stanford University and BA from Sophia University. She sits on the Japan Advisory Board of Harvard Business School as well as several advisory committees of the Japanese Government. She is the author of a bestseller book, "Turning Demographic Challenges into Economic Opportunities". (Japanese only) Ranked #1 at Amazon Japan, economics category.
Drinks and light snacks will be served.

Please contact us (office@sccj.org) should you have any questions. Looking forward to seeing you at the event!
--------------------------------------------------------------------------------------------------------------------------------------------------------------------------
SCCJのウィメンズ・インパクト・ネットワーク(WIN)が設立一周年を記念して、国際女性デーに合わせてパネルディスカッションを行います。
性別や業界関係なく、どなたでもご参加いただけます。
このイベントでは各界の第一線で活躍されている女性の皆様にパネリストとしてご登壇いただきます。
テーマ:多様性を通じてより良いビジネスを展開するには
なぜより良いバランスと多様性を持った企業が望ましいのでしょうか?
なぜ経営陣もバランスが取れている方が良いのでしょうか?
よりバランスの取れた従業員層を確保するために、職場の男性たちはどうサポートすればよいでしょうか?
採用の際に気を付けるべきことは?
パネリストの皆様:
キャシー 松井氏 ゴールドマン・サックス証券株式会社 副会長
村上 由美子氏 OECD東京センター 所長
ヴィクトリア フォシュルンド=ベラス氏 駐日スウェーデン大使館 公使参務官
浅野 恵子氏 ムンタース株式会社 代表取締役
進行:メリナ カランダリディス氏 エリクソン・ジャパン 最高財務責任者
<登壇者プロフィール>
キャシー 松井氏
ゴールドマン・サックス証券株式会社 副会長
ハーバード大学、ジョンズ・ホプキンズ大学院卒業(SAIS)後、1994年にゴールドマン・サックス証券株式会社入社、1998年にマネージング・ディレクター、2000年にパートナーに昇格。グローバル・マクロ調査部アジア部門・チーフ日本株ストラテジスト。
過去数回、インスティチューショナル インベスターズ アナリストランキングにて日本株式投資戦略部門で1位を獲得。ウーマノミクスのテーマにて、2007年にウォールストリートジャーナルの「10 Women to Watch in Asia」の一人に選ばれた。2014年にはBloomberg Marketの「50 Most Influential」の一人に選ばれた。
過去には、政府関係の女性の潜在力促進・向上改革に向けた会合、ワーキンググループなどに参加。
現在、アジア女子大学支援基金財団の理事会メンバー、米日カウンシル議会理事会長、一般財団法人ファーストリテイリング財団理事、外交問題評議会メンバー、アジア自然保護協会メンバー、経済同友会メンバー、日本癌学会乳癌基金のアドバイザリーメンバーの一員でもある。
村上 由美子氏
OECD 東京センター 所長
上智大学、スタンフォード大学院修士課程卒業後、1989年国際連合に就職。1991年までバルバドスで国連開発援助プログラムを担当。1991年、ニューヨーク国連事務局で、リモートセンシングの平和的利用推進に従事。1991年から1992年まで国連カンボジア暫定統治機構で人権擁護オフィサーを務める。
1994年ハーバード大学院修士課程を修了、ゴールドマン・サックス証券株式会社入社。ロンドンでバイスプレジデント、ニューヨークと東京でマネージング・ディレクターを務める。2009年、クレディ スイス証券にてマネージングディレクターに。2013年9月から現職。
OECDの日本およびアジア地域における活動の管理、責任者。ハーバードビジネススクールの日本アドバイザリーボードメンバーや外務省日米経済研究委員会、経済産業省電力・ガス基本政策委員会等の政府委員会で委員を歴任。
軽食とお飲み物をご提供いたします。
ご不明な点は事務局(office@sccj.org)までお問い合わせください。
皆様のご参加を心よりお待ちしております。
Friday March 8th, 19:00 - 21:00
Embassy of Sweden, Auditorium
1-10-3-100 Roppongi, Minato-ku, Tokyo, 106-0032
Free for Members, 2,000 JPY for Non-Members (incl. drinks and light snacks)
Free for Members, 2,000 JPY for Non-Members (incl. drinks and light snacks)
Contact : office@sccj.org