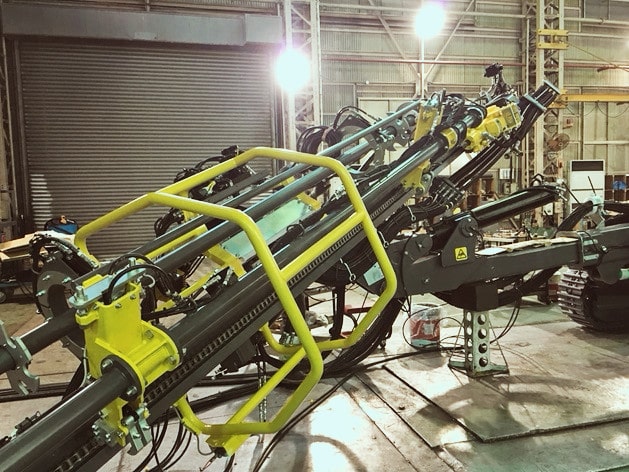 Member introduction: Epiroc Japan: Creating success through drilling
04 February 2018
| Written by sccj_office
At first, the name Epiroc (a portmanteau of the Greek words for 'on' and 'rock') might sound very unfamiliar. But Epiroc Japan KK is no stranger to Japan's Swedish business community at large. For over 30 years, it has been manufacturing the surface drilling products at its Yokohama plant under the Atlas Copco brand.
In 2017, Atlas Copco Group strategically split-off its Mining and Rock Excavation Technique business area from its corporate structure. But, as Mr. Matsumi Higashida, general manager of the Yokohama plant explains, "at the moment Epiroc is still part of the Atlas Copco Group". The split-off process will be finalized at Atlas Copco's shareholders meeting, scheduled to take place in April, 2018. Once this proceeding is cleared, Epiroc will become a publicly listed company on Nasdaq Stockholm sometime around June, 2018.
Mr. Higashida fully intends on inheriting and refining the "wonderful corporate culture" nurtured through Atlas Corpco's 140 year history. Furthermore, one of his main responsibilities is to ensure that this corporate culture is successfully handed down to the next generation of people working at Epiroc Japan.
When asked about Epiroc Japan's KPI, Mr. Higashida explained that he aims to grow the company into either the No.1 or No.2 player in the market. For this to be achieved, Mr. Higashida believes Epiroc Japan must continue to uphold its strong emphasis on talent development. Mr. Higashida explains that, as long as this is realized, Epiroc Japan will continue manufacturing a wide range of products that can not only satisfy, but exceed its customers' expectations. "I would like Epiroc Japan to be recognized as a provider of 'Japan quality' products" remarked Mr. Higashida.
Through their SCCJ membership, Mr. Higashida is looking forward to strengthening Epiroc Japan's relationships with old and new members alike. He is confident that the membership will nurture a "synergy" that will benefit all SCCJ members.
You can find out more about Epiroc at: https://www.epiroc.com/en