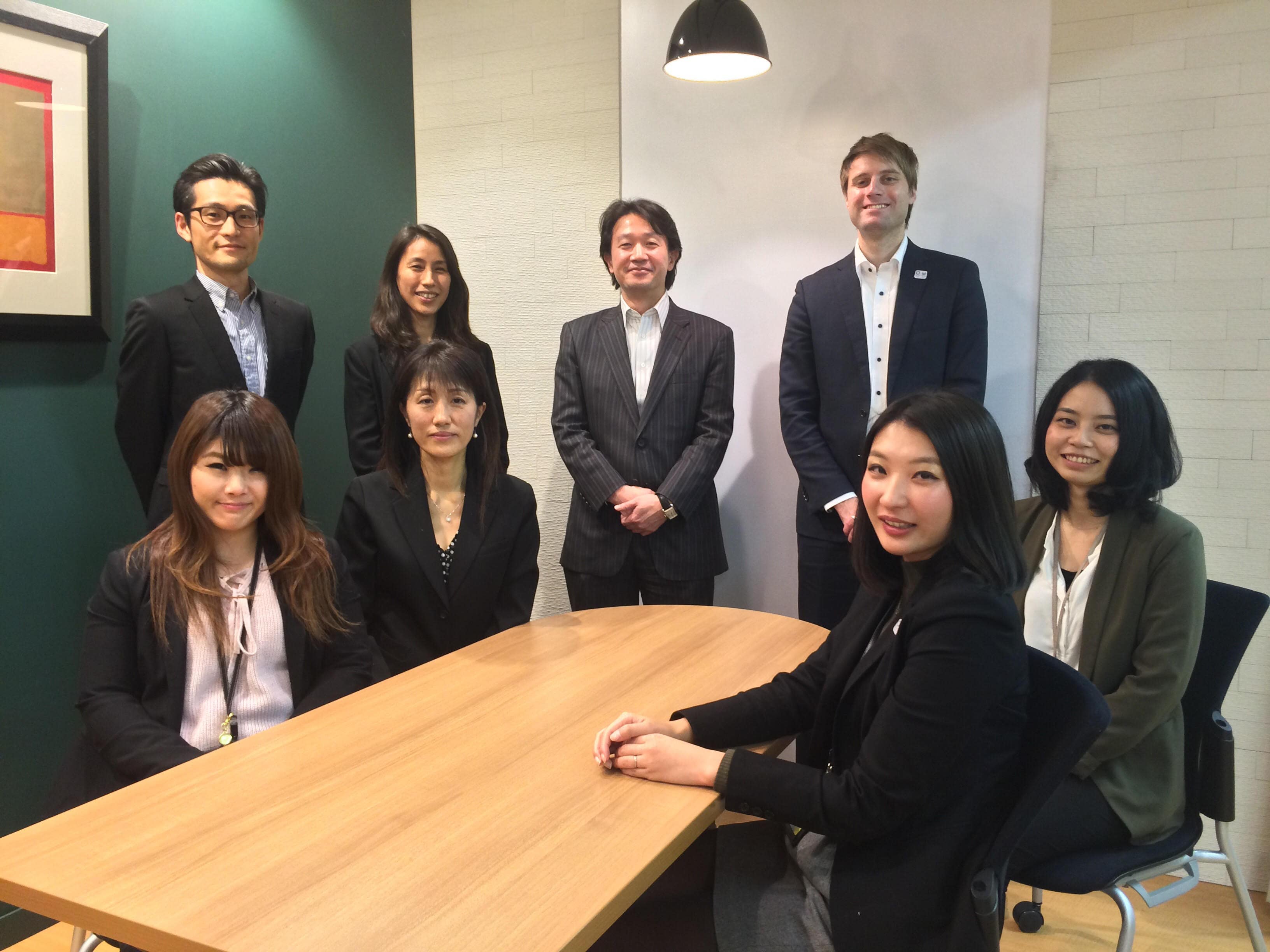 Member Feature: Space Design
17 April 2017
| Written by sccj_office
SCCJ corporate member Space Design Inc. is a Japanese real estate company based in Tokyo. SCCJ visited their head office in Shimbashi to interview Mr. Paul Yang (general manager of sales) and Mr. Robert Blanck (sales department coordinator). Through the interview, messrs Yang and Blanck explained the company's business model, main products/services, key competitive edge, and future business plans.
Originally established in 1978 as a condominium developer, Space Design adopted its current business model in 1999. And since 2013, it has been a subsidiary of Kenedix—a real estate fund management company listed on the first section of the Tokyo Stock Exchange. With an almost two decade-long track record as a real estate asset operator, Space Design has successfully built its brand as a chic and nimble real estate company. And, with a client portfolio comprised of more than 1,000 companies, they are a one-of-a-kind player in the market, providing both serviced apartments and serviced offices. "We are probably the only major player that provides [serviced apartment and serviced office] packaged deals" explains Mr. Yang.
Space Design has three core business units. These are: (1) serviced apartments (2) serviced offices (3) hotels. Its serviced apartment brands are called BUREAU and B-SITE. The bulk of these are studio type units with a well-balanced and stylish modern design. At present, all 800 units are located in Tokyo's prime areas, such as Minato-ku's Takanawa area. Foreign businesspersons are the main users of these assets.
The serviced office brands are called BUREX and BUREX LABO. There are about 300 of these units located in Tokyo's central district, such as Akasaka and Roppongi. Most of the companies using these assets are domestic SMEs and start-ups. The tenants can easily communicate and build networks with other likeminded tenants in the common areas. Startups tend to prefer BUREX LABO, due to the rental level and overall convenience.
Space Design also manages two hotels: B:CONTE ASAKUSA and BUNKA HOSTEL TOKYO. The former is a serviced apartment hotel equipped with a kitchenette; the latter is a hostel-style hotel designed to foster communication among the guests. Unlike the serviced apartments, where people need to stay for at least one month, the minimum length of stay at these two hotels is one night. These assets are popular among tourists, rather than businesspersons.
Space Design identifies itself as a "service-oriented" real estate company. According to Mr. Yang, besides their prime location and price points, this is a key competitive edge that separates them from other companies. A good example that shows their serviced-oriented approach is their communication style. Many people at Space Design provide concierge-like services to clients in both English and Japanese. Their ability to respond bilingually can make a huge difference, especially when a client asks a very specific question about their dietary needs in English.
Another example is its extensive business network. Space Design can act as a stepping stone for domestic companies venturing outside of Japan, and vice versa. Their domestic clients can easily gain access to over 50,000 serviced apartment units in the United States and Europe; and their foreign clients can easily receive support from a diverse range of professionals with different skill sets. For instance, Space Design can provide both legal and accounting support to foreign clients who lack experience in setting up companies in Japan.
Going forward, Space Design intends to further refine their service-oriented approach. "We would like to operate more as a business solution platform. We also want to collaborate more with our competitors within the market. [This is possible] because we are the only major player that provides both serviced apartments and services offices" states Mr. Yang.
Also, providing long term housing to expats working at Japanese companies is one market segment they plan to capitalize more. "Japanese companies used to have corporate dormitories. But nowadays not many do. So we think we can fill in this need" explains Mr. Yang. A similar market segment that Mr. Yang has deemed lucrative is housing for visiting foreign academics. Mr. Yang believes Space Design is well-equipped to focus more on this segment, as the bulk of their serviced apartments are studio units.
In terms of new brick and mortar type products, Space Design will soon open a new office called "BUREX FIVE" themed on the 5 senses (i.e. seeing, hearing, feeling, tasting, and smelling) in Shimbashi. The concept of this office is two folds. First, as a networking platform, it will help companies foster new business relationships; second, it will function as a new "urban oasis" for people seeking new insights and inspirations.
Space Design will also open a new serviced apartment in Shibuya in March 2017. This high-end residential property will be their first family-friendly asset equipped with two-bedroom units (rather than only studio units). This will also be their first serviced apartment asset in the Shibuya area.
Furthermore, in 2019, Space Design is scheduled to open a new hotel in Ginza. This new hotel will be branded as Royal Park Hotel & Resorts, a 100% subsidiary of Mitsubishi Estate Co., Ltd, but operated mainly by Space Design staffs. Mr. Yang also suggested that over the coming years, Space Design may open another hotel, somewhere in the Kansai area.
The last element of the market where they have identified potential for short-to-mid-term growth is deregulation. Like many people in the industry, Mr. Yang expects Japan's "Minpaku" (Residential Accommodation) law to change, sometime in the near future. Once the deregulation process is set forward, Space Design's serviced apartments can go into direct competition with hotels. Currently, serviced apartments and hotels are in a totally different product category, and cannot compete with each other. This is because, by law, a serviced apartment's length of stay is constrained to a minimum of one month. If implemented, the deregulation will dawn a new era to Japan's serviced apartment market.
As the number of inbound foreign tourists and businesspersons continues to increase, it is expected that, going forward, their needs will become even more complex and sophisticated. Moreover, the deregulation, once set in motion, will act as tailwind. For a service-oriented real estate company like Space Design, this means there is tremendous potential for growth.
You can find out more about Space Design Inc., at: http://www.space-d.co.jp/co/en/ (Tel: +81-3-3502-7777)