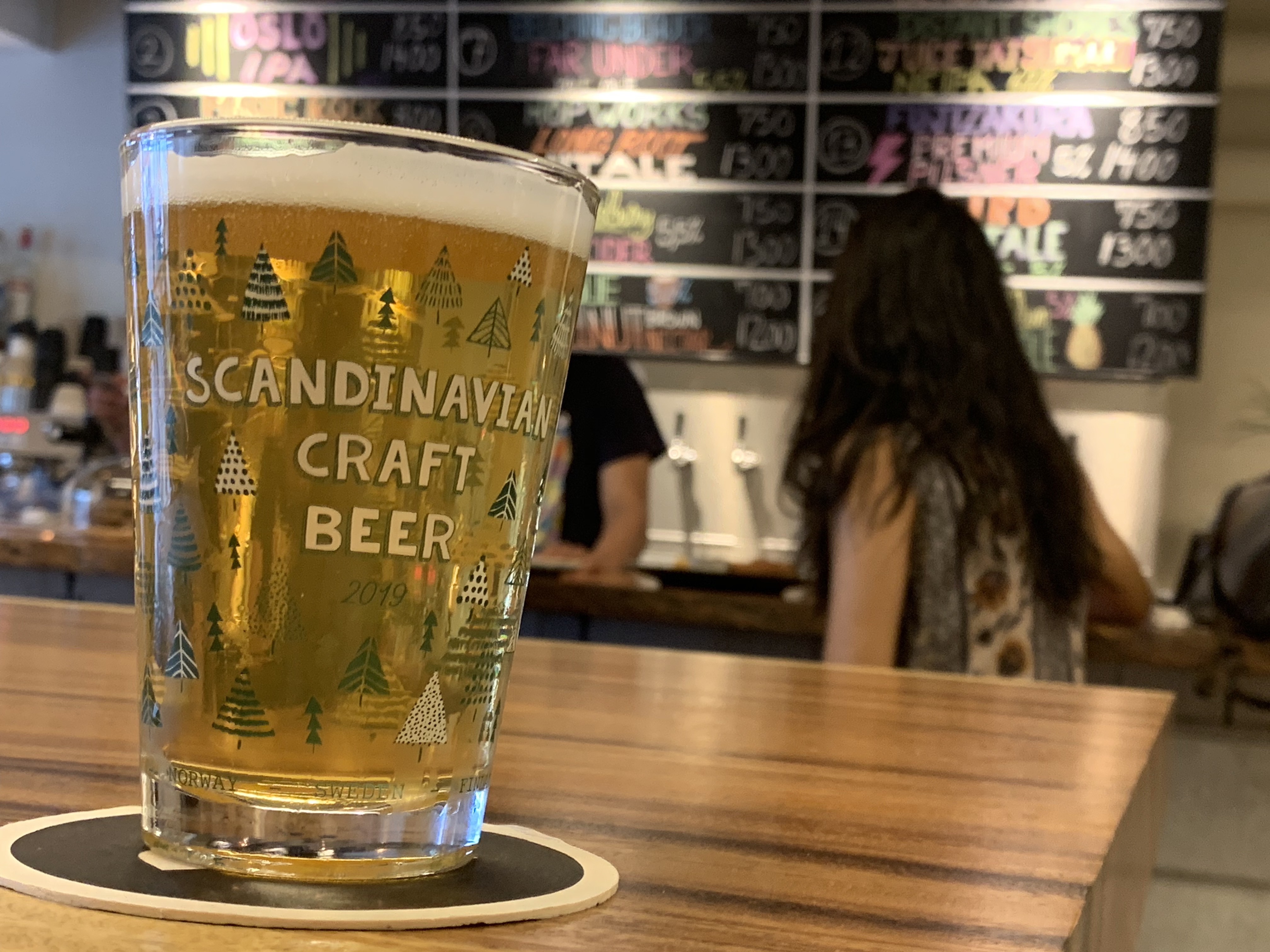 Event Report: Scandinavian Craft Beer Evening
02 August 2019
| Written by administrator
The 5 Nordic chambers (DCCJ, FCCJ, ISCCJ, NCCJ, and SCCJ) co-organized Scandinavian Craft Beer Evening at Coaster, Craft Beer and Kitchen (Shimokitazawa) on Thursday, August 1st.
The seats were limited to 100, which sold out surprisingly quickly. SCCJ had a great turnout with over 70 guests joining the event.
Guests enjoyed 12 kinds of high-end craft beer from Denmark, Norway and Sweden from brands such as Omnipollo (Stockholm SWE), O/O (Gothenburg SWE), Mikkeller (DEN) To ØL (DEN), Oslo Brewing (NOR) Lervig (NOR) and 7Fjell (NOR).

To make the evening extra memorable all guests got a limited-edition Scandinavian Craft Beer 2019 glass to bring home after the event.
SCCJ Corporate Member ScanJap generously sponsored the event with free give-aways of Oulu Mustard to all guests to bring home.

It was a very hot evening (weak aircon?) but we believe it provided a good opportunity for guests to make new connections and try a great craft of beer from Scandinavia!
---
8月1日、北欧五か国の商工会議所(デンマーク・フィンランド・アイスランド・ノルウェー・スウェーデン)が共同で、北欧クラフトビールを楽しむイベントを下北沢のCoaster クラフトビール&キッチンにて開催しました。
参加できるゲスト数は100名と限られていましたが、すぐに満席となり、当日はSCCJより70名を超えるゲストの皆様にお越しいただけました。
イベントでは、デンマーク・ノルウェー・スウェーデンの様々なビール12種を自由に楽しむことができ、新たな人々との出会いや北欧クラフトビールを体験する貴重な機会となりました。
ちなみに今回提供されたビールの一部をご紹介すると、Omnipolo (ストックホルム、スウェーデン)、O/O(ヨーテボリ、スウェーデン)、 Mikkeller (デンマーク)、 To ØL (デンマーク), Oslo Brewing (ノルウェー)、 Lervig (ノルウェー) 、 7Fjell (ノルウェー)などがありました。
本イベントの開催を記念して限定のビールグラスを制作し(カバー写真をご覧ください)、ゲストの皆様にはイベント後、思い出としてお持ち帰りいただきました。
また、SCCJの企業会員であるScanJap よりフィンランドのマスタードの試供品を無償で提供いただきました。
暑さと弱いエアコンでとても暑い夜でしたが、このイベントを通して新たな人々との出会いや、北欧の素晴らしいクラフトビールを楽しむ機会を提供できたならば幸いです。