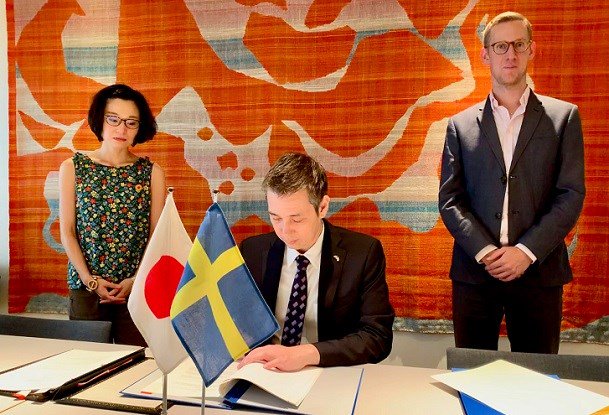 Signed Agreement on Working Holiday Visa Program (English, Japanese, and Swedish)
27 August 2019
| Written by administrator
Working Holiday Visa Program
The Governments of Sweden and Japan has today signed a Working Holiday Agreement.
The Agreement strengthen long-term bilateral relations between the countries and provides opportunities for young people between the age of 18 and 30 to experience the culture and general way of life in Sweden and Japan.
You can benefit from the Agreement by applying for the special working holiday Visa which allows you to stay in the other country for up to a year with the right to partially to support your stay through work.

You will be able to apply for the Visa after the agreement has entered into force. This will take place after the necessary administrative procedures have been finalized. The Embassy will publish more information about where and how to apply when the agreement has entered into force.
Japan is the 9th country or region with which Sweden has established a working holiday scheme.
The agreement can be found in its entirety here: https://www.mofa.go.jp/mofaj/files/000509948.pdf
日・スウェーデン・ワーキング・ホリデー協定の署名
1. 本26日,東京において,河野太郎外務大臣と,スベン・オストベリ在京スウェーデン大使館臨時代理大使(Mr. Sven Östberg, Chargé d'Affaires ad interim, Embassy of Sweden in Japan)との間で「ワーキング・ホリデー査証に関する日本国政府とスウェーデン王国政府との間の協定」の署名が行われました。
2. この協定は,ワーキング・ホリデー制度の参加者として有効な査証を所持する相手国の国民に対し,旅行資金を補う目的で休暇の付随的な活動として就労するために一年間滞在することを許可するための法的な枠組みを構築するものです。
3. この協定は,両締約国政府がそれぞれの国内手続の完了を書面により通報し,これらの通報が受領された日のうちいずれか遅い方の日の後30日目の日に効力を生じます。
4. ワーキング・ホリデー制度の開始を契機として,両国の青少年の交流や相互理解が促進され,両国の友好親善関係が一層強化されることが期待されます。
詳細はこちらからご覧になれます。https://www.mofa.go.jp/mofaj/files/000509947.pdf
Sverige och Japan skriver under Feriearbetsavtal
Japan och Sverige har idag skrivit under ett Feriearbetsavtal.
Avtalet stärker de långsiktiga relationerna mellan länderna och gör det möjligt för unga människor, mellan 18 och 30 år, att uppleva kultur och samhälle i Japan och Sverige.
Genom en särskild visering kan Du få stanna i upp till ett år framförallt för semester, men med rätt att arbeta för att bidra till uppehället under resan.

Du kan använda dig av avtalet genom att ansöka om den särskilda viseringen när avtalet har trätt i kraft. Det kommer att ske efter att respektive lands myndigheter genomfört nödvändiga administrativa procedurer.

Ambassaden kommer att informera via hemsidan om när det har skett samt om hur Du kan ansöka om viseringen.
Läs hela avtalet här: https://www.mofa.go.jp/mofaj/files/000509952.pdf