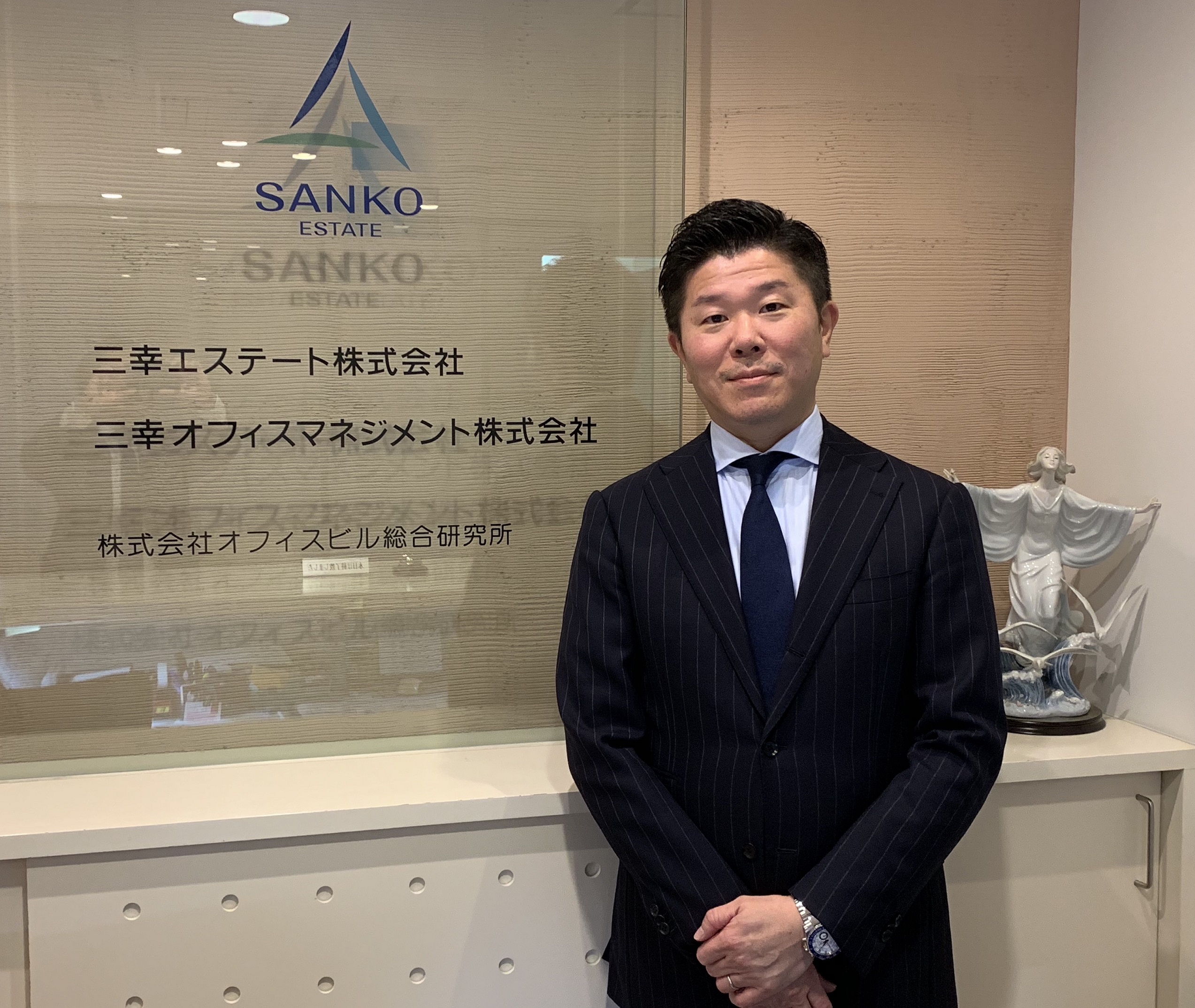 Member Introduction Sanko Estate: A Lodestar in Japan's Office Leasing Market
14 January 2020
| Written by administrator
(日本語は英語の後に続きます)
As the world's third-largest economy, Japan has some of the most dynamic commercial real estate markets globally. Of these, the Tokyo office market is a colossus in its own right—with its forever changing skyline, the city boasts some of the world's most well-constructed office buildings. Searching for your business or organization's office space in this sprawling steel jungle can easily turn onerous. But rest assured: Sanko Estate Co., Ltd, with its more than four decades of brokerage experience, will navigate you through the nebulous as your trusted lodestar. SCCJ visited Managing Director Michitoshi Shibata at the company's headquarters office in Ginza, to learn more about their business and the future prospect of the Tokyo office market.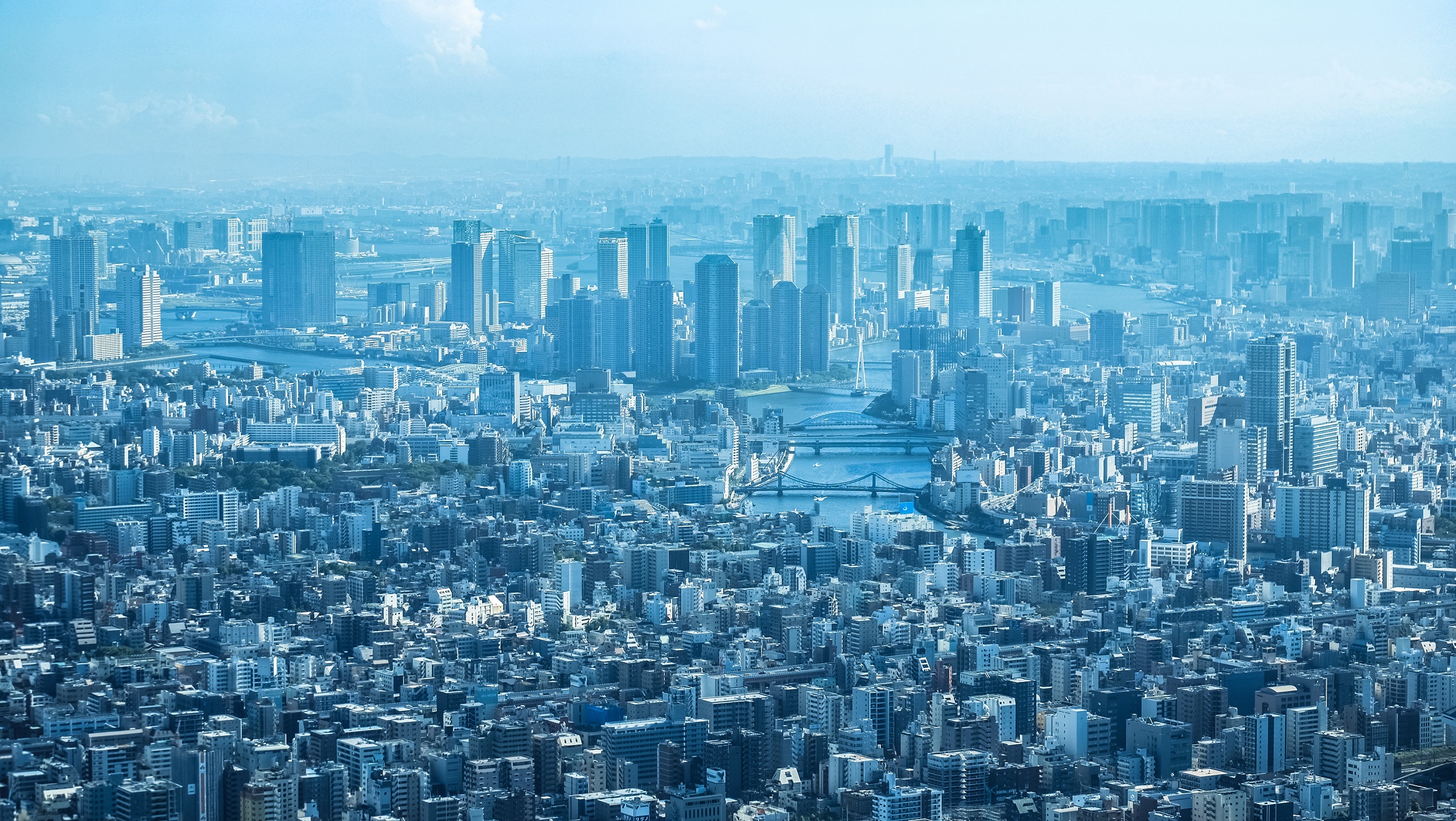 Sanko Estate was founded in 1977. It is one of the leading real estate brokerage companies in Japan. Their business domain includes office leasing, relocation project management, consulting, and market research. They have a total of 10 offices across Japan with a solid market presence in all major cities from Sapporo to Fukuoka.
"We are one of the nation's top three rental office brokers. We do business with all of Japan's major corporations. During my 20 years at Sanko Estate, and as a managing director of the office leasing division, I have supported the likes of PwC, Fujifilm, and MITSUI & CO. realize their office strategy" commented Mr. Shibata.
In order to maximize their core competencies, the company takes a "specialist staff to one client" system when providing their services. This means one Sanko Estate realtor is responsible for one company's entire office space management and office strategy.
"Each realtor has more than 100 companies as their clients. Through experiences with many clients, we have constructed a better-managed, well-structured, and long-term support structure for our clients. Many people working at general corporations who oversee an office expansion or office relocation plan tend not to be real estate experts. Hence we believe this system is the best way for us to develop a trusting and lasting relationship with our clients" explained Mr. Shibata.
Mr. Shibata indicated that SCCJ member companies contact the International Department of Sanko Estate (Email: contact@sanko-e.co.jp / Tel: 03-3564-8051 ), should they need support in planning or executing their office strategy going forward.
In recent years, the government's workstyle reform (hataraki-kata-kaikaku) policy has been a key buzzword in Japan's office real estate market. Due to this changing trend, Sanko Estate is talking more about not only the quantitative aspect of an office building but also its qualitative aspect. Mr. Shibata summed up the challenges involving workstyle reform in the following words:
"Traditionally, our clients were only interested in an office building's quantitative aspect. For example, the rental level and office size. Now that the government is pushing for workstyle reform, the qualitative aspect is becoming more important. For example, how an office building can improve worker productivity. But this is only catching on slowly at large Japanese corporations.

Some of our clients are unable to understand how the quality of an office building translates into increased productivity. […] Developers need to change their mindsets, too. Traditionally, if a developer constructed a large-scale office building in a good location, it was relatively easy to find a tenant. In the future, these buildings need to have something more to stay competitive".
Another challenge the Tokyo office real estate market faces is its short supply of excellent and large-scale buildings. Even the notable office building development projects scheduled for completion within the next two to three years have tenants already. "It would be difficult to find a floor area of 1,000 tsubo (approximately 3,308 sqm) or more in Tokyo right now. That's why over the next few years, for a company to find a large office space in central Tokyo, crafting a well-structured office strategy is extremely important" explained Mr. Shibata.
In addition to the government-backed workstyle reform, the lack of large-scale office building supply has made the number of satellite offices and telecommuters (Tele-Work) increase, too. Mr. Shibata believes that this move away from the traditional center of gravity will continue to reshape the dynamics within Tokyo and other real estate markets. "Today, the most important thing is productivity. The days when every worker had to commute to central locations are now over. Of course, depending on the business model, some companies will still need to have the bulk of their employees commute to central locations. For example, established Japanese companies that provide a lot of in-house training. But in general, the number of conventional offices is certainly on the decline" commented Mr. Shibata. Although relatively unknown among SCCJ member organizations, Sanko Estate, with its proven track record and sound integrity, will safely support you through your next-door of opportunity as a trusted lodestar.
We would like to extend a warm welcome to Sanko Estate Co., Ltd. as a gold member of SCCJ. You can find out more about them at: https://www.sanko-e.co.jp/en
---
世界で3番目の経済規模を誇る日本では、世界でも稀に見るほど事業用不動産マーケットが発展している。中でも東京のオフィスマーケットはそれ自体が巨大であり、近年は増え続ける高層ビルで街の風景も変わり続けている。オフィススペースを東京の広大な鉄のジャングルで探そうとすると、簡単に迷子になってしまうだろう。しかし、安心してほしい。三幸エステート株式会社は40年を超える仲介業者としての経験を活かし、強力な道しるべとなってあなたを導いでくれる。SCCJは銀座にある本社を訪ね、常務取締役を務める柴田道利氏に彼らのビジネスと東京のオフィス市場の将来について話を聞いた。
三幸エステートは1977年に設立され、現在は日本でも有数の不動産仲介業者である。事業内容は賃貸オフィス、移転プロジェクトマネジメント、コンサルティング、市場調査である。国内に10の事業所があり、札幌から福岡まで、主な主要都市でビジネスを展開している。
「我々は国内でトップ3に入る賃貸オフィスの仲介業者です。日本を代表する会社の多くとビジネスを行ってきました。私自身も弊社に入社して以来20年間、そして賃貸オフィス事業部の責任者として、PwC, 富士フィルム、三井物産といった数々の会社のオフィス計画に携わってきました。」と柴田氏はいう。
この会社の最大の強みは、サービスを提供する際、顧客企業一社に必ず一人の専任担当者がつき、フォローできる体制となっていることである。つまり、三幸エステートの担当者一人が、ある会社の全てのオフィス戦略とその運営に携わっている。
「各担当者は100社以上の顧客を抱えています。これにより、様々な形の実績に基づく、綿密に練られた、長期的なサポートを提供することが可能となっております。オフィスの拡張や移転の責任者として働いている人たちの多くが不動産の専門家ではありません。したがって、プロの担当者が専任的に付いて一つの企業をフォローアップしていくやり方は、長期的な関係を構築するために最適な方法なのです。」
柴田氏は、SCCJの会員企業が今後オフィスのご移転・縮小や拡張・レイアウト変更等に関わることでサポートが必要な場合は、会社の国際営業部 (メール:contact@sanko-e.co.jp 電話:03-3564-8051) に連絡をしてほしいと話す。
昨今の政府による「働き方改革」は、日本のオフィスマーケットでも大きな話題となっている。この変化の波により、三幸エステートではオフィスビルの面積などの数値的な側面だけでなく、質的な側面にも触れるようになったという。柴田氏は「働き方改革」にまつわる課題を次のように指摘する。

「今までは、お客様はオフィスビルの全体規模やオフィスの面積といった目に見える物理的部分にしか興味がありませんでした。現在は政府が「働き方改革」を進めていることもあり、"オフィスビルがどのようにそこで働く人たちの生産性を高められるか"という環境や質的な側面がより重要になってきているのです。しかし、日本の企業がこうした動きを理解するのは容易ではありません。

私たちのお客様の中には、なぜオフィスビルの質が生産性に影響するのか理解できない方もまだ多勢いらっしゃいます。(中略)オフィスビルの開発会社も視点を変えていかなければなりません。従来は立地の良い場所に大規模なオフィスビルを建設すれば、テナント誘致は難しくはありませんでした。しかし、将来的にこれからは、「働き方改革」に伴った良好な環境を保ち、高い安全性を有するなど、何か他の要素を持ったビルでないと競争力は維持できないと思われます。」
東京のオフィスマーケットにあるもう一つの課題は、優れた大規模なオフィスビルの不足だ。今後2,3年のうちに完成するオフィスビルでさえ既に入居者が決まっており、供給量が需要量に追いついていないのが現状だ。「今すぐに1,000坪(約3,308平方メートル)を超えるフロアを見つけるのは難しいでしょう。そのため、今後数年間のうちに東京の中心部に広いオフィススペースを見つけるためには、しっかりしたオフィス計画がとても重要になります。」と柴田氏は説明した。
政府主導の「働き方改革」に加えて、大規模なオフィスビル不足の影響でサテライトオフィスや在宅勤務者が増えている。柴田氏は、中心地に集まるということを良しとする伝統的な考え方からの脱却によって、東京や他の都市の不動産マーケットは大きく変革してくだろうと考えている。
「現在最も重要視されているのは生産性です。全社員が中心地まで通勤しなければならないという時代はもう終わりました。もちろん業種や体制によっては、社員の大半が中心地まで通わなければならないという企業もあるでしょう。例えば同じ場所で独自の社員教育や年功序列による体制が長年続けられてきた日本の創業年数の長い企業などがあげられますね。しかし今後一般的には、従来型のオフィスは減少の途にあります。」
SCCJの会員企業の間ではあまり知られていないかもしれないが、確固たる実績と誠実さでビジネスを続けてきた三幸エステートは、あなたを次のチャンスへ安全に導く道しるべとなるだろう。
三幸エステート株式会社のSCCJゴールド会員としての加盟を心より歓迎いたします。会社についてくわしくはこちらからご覧になれます。