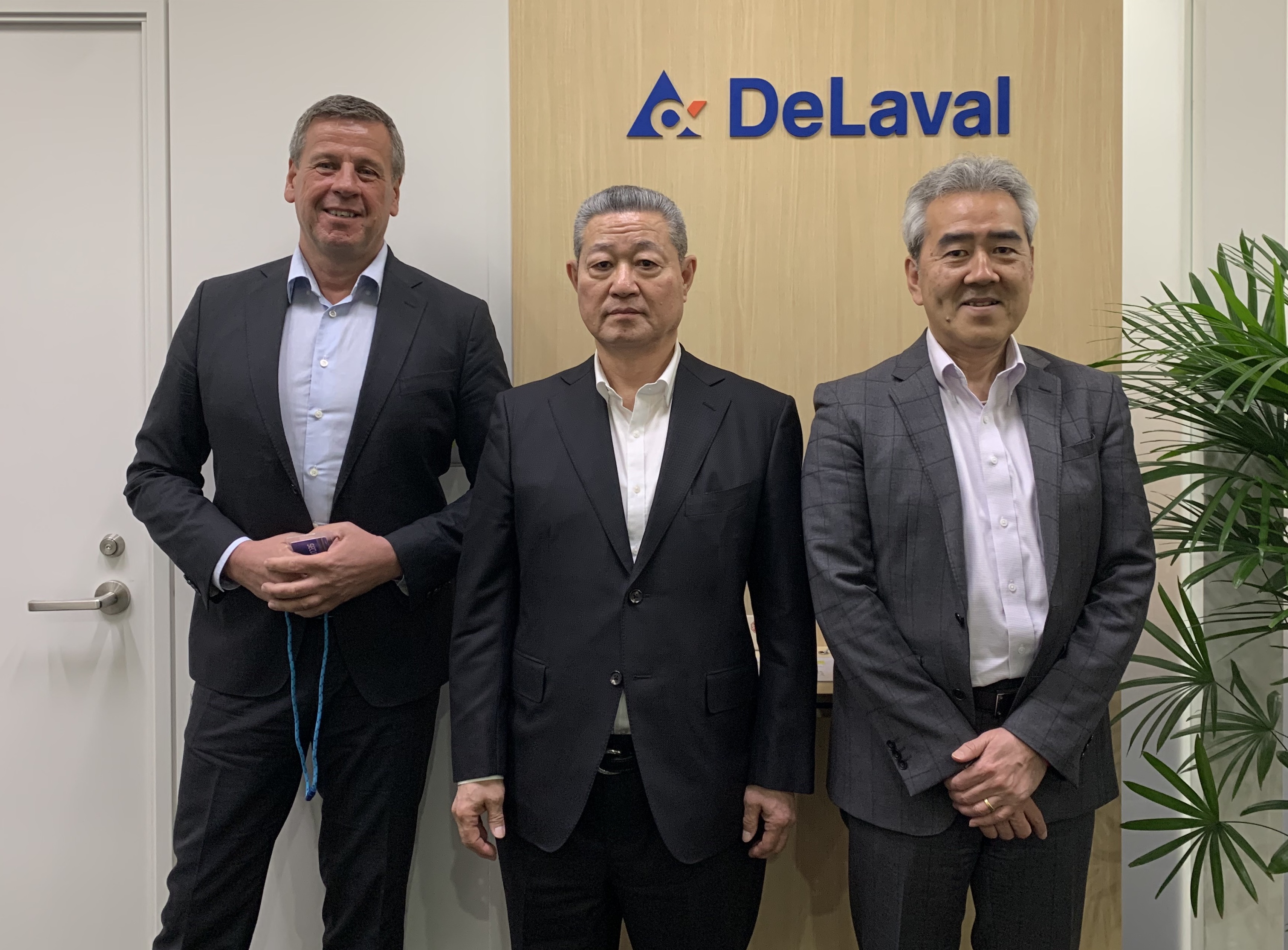 Member Introduction Article: DeLaval ~ Turning Cows Into Cash Cows Through Automation Technology
23 April 2020
| Written by administrator
(日本語は英語の後に続きます)
Cows or cattle have played an integral role in our civilizations for many millennia. In the modern era, its nutritional byproduct milk has become a major global staple. But milk and other dairy products such as butter, cheese, and yogurt may not have achieved its ubiquitous position if it wasn't for advancements in dairy farming technologies. SCCJ visited DeLaval K.K., the world leading maker of milking equipment, at their Shinjuku office to learn about the company and the future of the industry.
DeLaval is part of the Tetra Laval group—a world leader in the processing, packaging, and distribution of foodstuffs. DeLaval is a family-owned Swedish company originally established in 1883 by Gustaf de Laval. Its 2019 revenue stood at around 1.1 billion euros (around 131 billion yen). DeLaval has business operations in more than 120 countries and employees over 4,600 people. The company provides a full range of products for dairy farmers—everything from milking tubes to cow brushes to their workwear. Its most recent global market share was around 26%.
The company's Asia-Pacific region is led by Executive Vice President Johan Ledel. He is a 25-year veteran of the Tetra Laval group and was previously DeLaval's chief financial officer (CFO). This is the third time Mr. Ledel is based in the Asia-Pacific. Earlier in his career, he worked for Tetra Pak in China and Thailand.
"When I was based in Bangkok, I worked for our sister company Tetra Pak. There, I was a board member of the Thai-Swedish Chamber of Commerce. That was where I first learned about SCCJ.
We joined SCCJ for several reasons. One reason is education and networking. We wanted to provide our employees an opportunity to further their education and expand their network. Another is benchmarking. We would like to benchmark some of our approaches—for example our financial and HR strategies—with other Swedish companies in Japan. Finally, lobbying. We would like to receive some advice if we ever need to lobby governmental organizations"
said Mr. Ledel
As the regional head, Mr. Ledel oversees an enormously large geographical area. The markets he covers spans from Belarus in the far-west, Pakistan in the middle, to New Zealand in the far-east. "This region generates around 22% of our turnover. Of which, Japan makes up around 9%. The region is diverse in many ways, not only geographically. For example, in Oceania, grazing cows outdoors is still common. But in most other markets, including Japan, cows are usually kept indoors" added Mr. Ledel.
Vice President Kazuhiko Soga is the head of Japan at DeLaval K.K. Under Mr. Soga's leadership, the company's revenue in Japan has skyrocketed in recent years. "We have moved from the eighth biggest to the third biggest market within the company in terms of revenue. The two markets ahead of us are the US and Germany. Our market share in Japan is between 30 to 40%" explained Mr. Soga.
Mr. Soga highlighted the importance of the latest automation technology in Japan. This is because the industry has been facing a difficult-to-solve supply and demand conundrum.
"When we started our Japan business in 1956, the number of dairy farmers was around 283,000. Back then, each dairy farmer only owned one or two cows. Today, the number of dairy farmers has plummeted to around 15,000. But demand for dairy products has been steadily increasing. This means each dairy farmer now must look after tens and hundreds of cows. This is easier said than done. Around 95% of dairy farmers are small business owners and lack the resources to take care of big herds. Moreover, many of them are 60 years or older. For some of them manually feeding, milking, and taking care of the cows is physically very strenuous. That is why I believe automation technology is important. We believe our automation equipment can support Japanese dairy farmers achieve the success they deserve" explained Mr. Soga.
The company's latest equipment—DeLaval VMS V300—is an automated milking system par excellence. It not only milks the cow automatically; it also collects data from each cow and allows dairy farmers to remotely monitor and analyze each cow from their smartphones stress-free.
Mr. Shogo Nakano is the HR manager of DeLaval K.K. Mr. Nakano explained that only 10%of their 210 employees work from the Shinjuku office; the remaining employees work from the 26 sales offices located nationwide.
"Around 55% of Japan's milk is produced in Hokkaido. That's why we have 10 of the 26 sales offices there. Once the customer purchases our automation equipment, they bind a maintenance agreement. If there are any difficulties or problems, they can contract us at any time, and our staff will be there to provide support. This 24-hour after service is one of our company's strengths"
explained Mr. Nakano.
We would like to extend a warm welcome to DeLaval K.K. as a member of SCCJ. You can find out more about them at: https://www.delaval.com/ja/
---
牛は何世紀にもわたって我々の文明にとって重要な役割を果たしてきた。現代において、その副産物である牛乳は世界中の人々にとって欠かせない食料の一つだ。しかし牛乳やバター、チーズ、ヨーグルトなどの乳製品は、酪農技術の発展がなければここまで世界中に普及することはなかっただろう。SCCJは世界的に有名な酪農設備のメーカーであるデラバル株式会社の新宿オフィスを訪ね、会社やこの業界の将来について話を聞いた
デラバルは世界有数の食品加工処理、包装、容器成型機器を手掛けるテトララバル・グループの一つである。デラバルは1883年にグスタフ・デラバルによって家族経営の会社として創設された。2019年の売上げはおよそ11億ユーロ(約1310億円)だった。デラバルは120か国で事業を展開し、4600人以上の従業員が働いている。搾乳のチューブから、牛のブラシ、酪農用の衣類に至るまで、酪農に関わる様々な製品を提供している。グローバル市場における最新のシェアは約26%だった。
デラバルのアジア地域は上席副社長のJohan Ledel氏が率いている。彼はテトララバル・グループに25年務めるベテランで、以前はデラバルのCFOを務めていた。彼がアジア地域で働くのは3度目で、以前は中国とタイのテトラパックで働いていた。
「バンコクにいたとき、私はグループ会社のテトラパックで働いていました。そこでタイのスウェーデン商工会議所の役員を務めていたのです。そこで初めてSCCJのことを知りました。
我々がSCCJに加盟したのにはいくつかの理由があります。1つ目は教育とネットワーキングです。我々の従業員にさらなる教育の機会とネットワークの機会を提供したいと考えています。もう1つは、わが社の経理や人事戦略といったアプローチを、他のスウェーデン企業の日本支社と比較して評価するためです。最後に、政府機関にロビー活動が必要になった場合のアドバイスを求めたいと思ったからです。」
とLedel氏は語る。
地域の統括者として、Ledel氏は巨大な地理的エリアを監督している。彼が見ているマーケットはベラルーシから中東のパキスタン、そしてニュージーランドまでの範囲にわたる。「この地域は我々の売上げの22%を占めています。そのうち日本はおよそ9%です。地理的な理由ばかりではなく様々な理由で多様性を持つ地域でもあります。例えばオセアニアでは屋外での放牧が一般的だが、日本を含む他の市場では、牛は屋内で飼われることが多いです。」
日本法人の社長を務めるのは曽我和彦氏だ。彼のリーダーシップの下で、近年日本での売上げが飛躍的に上昇している。「日本市場は我が社にとって8番目のマーケットから3番目のマーケットになるまで成長しました。この上にはアメリカとドイツがいます。日本でのマーケットシェアは30~40%ほどです。」と曽我氏は説明する。
曽我氏は日本における自動化技術の重要性を強調する。何故なら、酪農業界は現在需要と供給のバランスに関する難問に直面しているからだ。
「我々が日本に進出した1956年、日本にはおよそ283,000もの酪農家がいました。その頃の酪農家は1頭から2頭ほどの牛しか所有していなかったのです。今日、日本の酪農家の数は約15,000まで急激に減少しています。しかし乳製品に対する需要は着実に増加しています。つまり、現在の酪農家は数十頭から数百頭もの牛の世話をしなければならないのです。事実だけを言うのは簡単ですが、これは本当に難しいことです。日本にいる酪農家の95%が小規模事業主で、数多くの牛の群れを世話するリソースが不足しています。さらに、酪農家の多くが60歳以上の高齢者であり、彼らが人の手で牛に餌をやり、搾乳し、牛の世話をすることは体力的にも大変なのです。だからこそ自動化の技術が大切なのです。我が社の自動化設備は日本の酪農家を大きく救うことになるでしょう。」
中野省吾氏はデラバル社で人事部長を務めている。中野氏によると日本法人で働く210名の従業員のうち、わずか10%が新宿の本社オフィスで働いているという。残りの従業員は日本全国にある26か所の営業所で勤務している。
「国内の牛乳のおよそ55%が北海道産です。そのため国内26か所の営業所のうち10か所が北海道にあります。お客様が弊社の自動化設備を購入する際にメンテナンス契約を結びます。設備に何か難しいことや問題があれば、お客様はいつでも我々に連絡を入れることができ、弊社のスタッフがサポートに伺います。この24時間サポートサービスは我々の強みの一つです。」
デラバル株式会社のSCCJ加盟を心より歓迎いたします。デラバル株式会社について詳しくはこちらからご覧になれます。