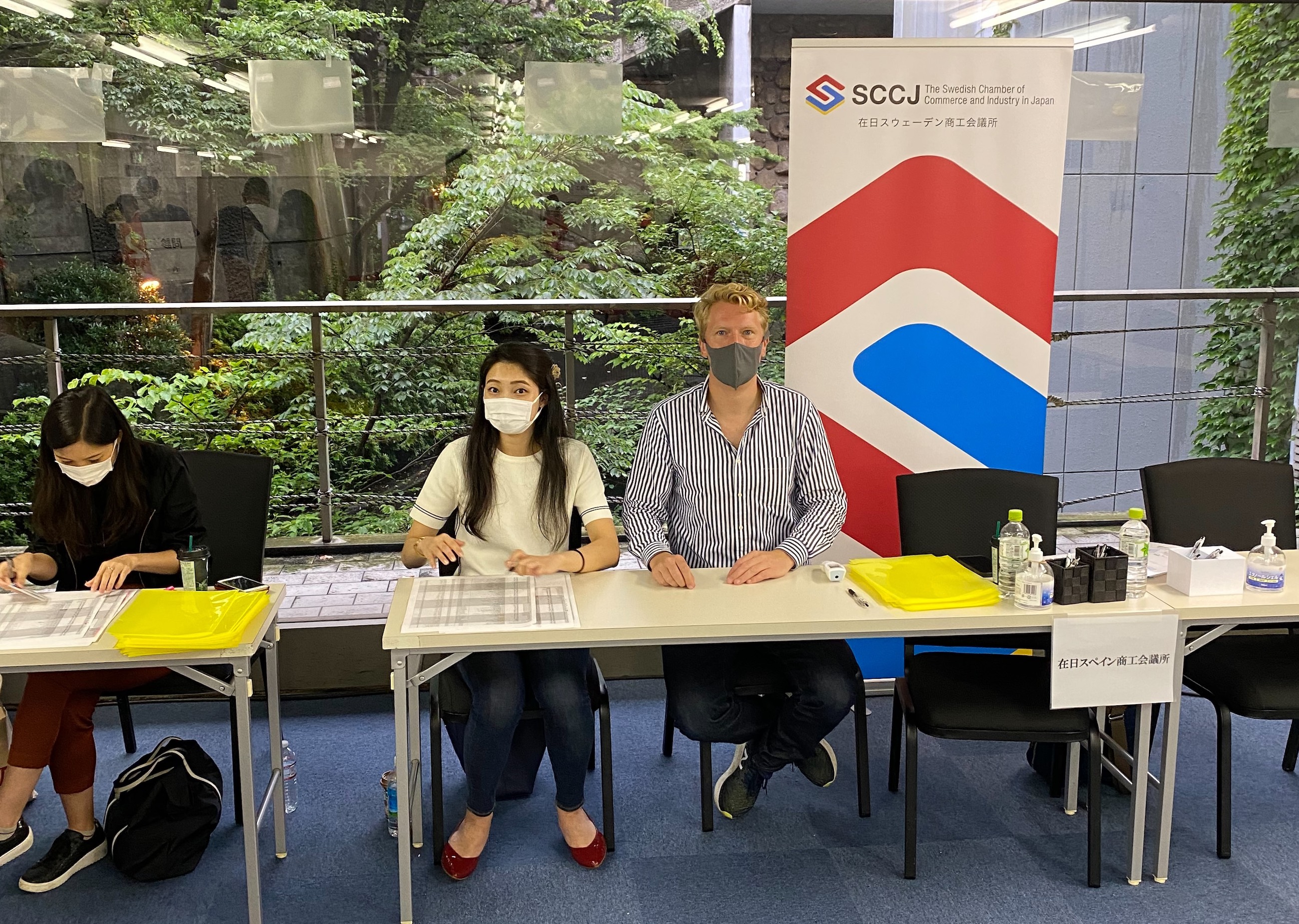 SCCJ Covid-19 Vaccination Program Report
31 August 2021
| Written by administrator
On June 1 the Japanese government announced that companies, universities and Chambers of Commerce could start vaccination programs for employees and students by June 21, 2021 using the Moderna vaccine.

SCCJ offered all corporate members to join this program with the first shot taking place in Osaka on June 30. A total of 800 members from some 40 companies participated in the vaccination program with the first and second shot given on several dates between June 30 and and August 12. The vaccination centers were operated by TKP in collaboration with Sakurajyuji Group in Osaka, Ichigaya (Tokyo) and Ikebukuro (Tokyo).

SCCJ Secretariat would like to thank all member companies for helping out to coordinate this effort. We are also very pleased with the high participation rate - no vaccine had to be wasted thanks to participants showing up as promised.
6月1日、日本政府は企業や大学、商工会議所で従業員や学生を対象とした職域単位のワクチン接種を6月21日から始める方針を明らかにしました。この職域接種では武田/モデルナ社製のワクチンが使用されました。
SCCJでは限られた数ではございましたが接種枠を確保することができたため企業会員の皆様へ職域接種プログラムを提供いたしました。6月30日の大阪会場を皮切りに、8月12日に皆様の2回接種が完了するまで合計約40社、800名の皆様にご参加いただきました。接種会場はTKPと桜十字グループが共同で運営し、大阪、市ヶ谷、池袋の3会場で接種が行われました。
この職域接種プログラムを運営するにあたり、スケジュール調整を始め多くの企業会員の皆様のご協力を賜りました。
プログラムにお申込みいただいた皆様のご協力の結果、すべての日程で97%以上の高い参加率を維持できました。ワクチンを無駄にすることなく、スムーズに接種を終えられたことを併せてご報告いたします。皆様のサポートに厚く御礼申し上げます。