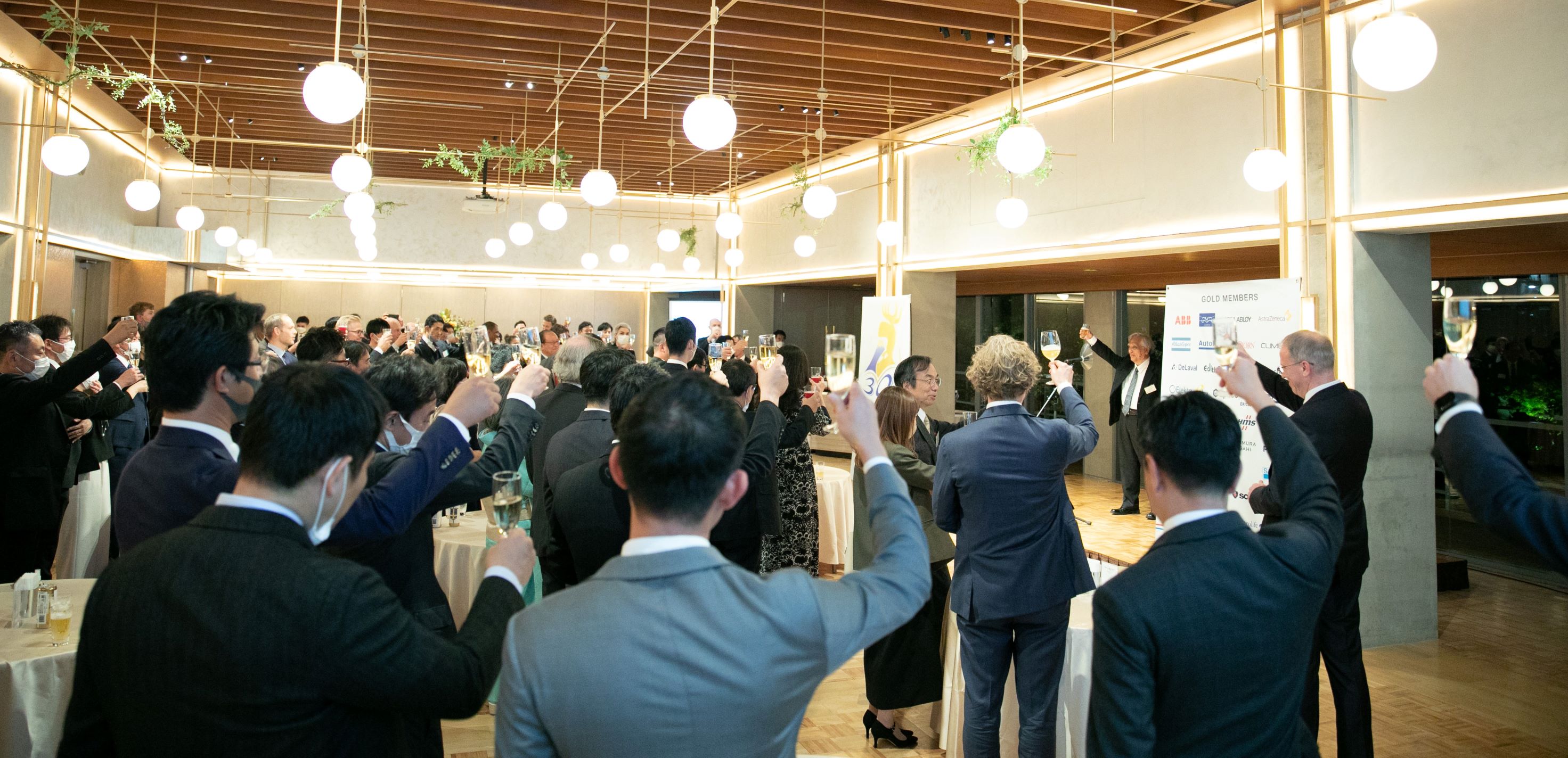 Event Report: SCCJ 30th Anniversary Celebration in Kansai
01 December 2022
| Written by administrator
(日本語は英語の後に続きます)
SCCJ organized a big 30th years anniversary celebration in Kobe, Kansai on the 11 th of November with a standing reception at the beautiful venue Sorakuen. Over 100 guests joined in this celebration, and we were also honored with the presence of our HE Ambassador of Sweden Pereric Högberg as well as the Mayor of Kobe city Mr. Kizo Hisamoto.
The evening started with a presentation from Kobe Steel as well as inspiring speeches from Mr. Linus Jonsson, Representative Director, EF Education First and Dr. Kenji Nakajima, Chairman, Japan-Sweden Society in Kansai. SCCJ Chairman, Mr. Martin Persson talked about SCCJs role as a facilitator for expanding networks, new encounters, and business opportunities.
During the reception the guests could enjoy various Swedish food specialties as well as craft beer from Sweden and wine from Kobe.
The success of this evening was a testament that SCCJs network of members are present in the Kansai region and we aim to continue promoting activities outside Tokyo in the coming years.
The following member companies joined the event:
Alfa Laval
Atlas Copco
Business Sweden
EF Education First
IKEA Japan
Munters
SSAB Swedish Steel
SWEP Japan
Uneplage International
Volvo Car Japan
Volvo Truck
Wallenius Wilhelmsen Ocean AS
11月11日、SCCJは神戸で30周年記念式典を開催し、相楽園でレセプションを行いました。当日はPereric Högberg駐日スウェーデン大使、久元喜造神戸市長のご臨席を賜り、100名を超えるゲストの方々にご参加いただきました。
式典は神戸製鋼所からのプレゼンテーションに始まり、EF Education First代表取締役のLinus Jonsson氏、関西日本スウェーデン協会会長の中島敬治氏から感動的なスピーチを頂戴しました。
SCCJ会長のMartin Persson氏はネットワークや出会いの場の提供、ビジネスチャンスを広げるためのファシリテーターとしてSCCJが果たしてきた役割について述べました。
レセプションではスウェーデン料理、スウェーデンのクラフトビール、神戸のワインをお楽しみいただきました。
このレセプションの成功は、SCCJのネットワークが関西に存在することを証明するものであり、今後も東京以外での活動を推進することを目指して参ります。
本イベントには以下の企業にご参加いただきました。
Alfa Laval
Atlas Copco
Business Sweden
EF Education First
IKEA Japan
Munters
SSAB Swedish Steel
SWEP Japan
Uneplage International
Volvo Car Japan
Volvo Truck
Wallenius Wilhelmsen Ocean AS