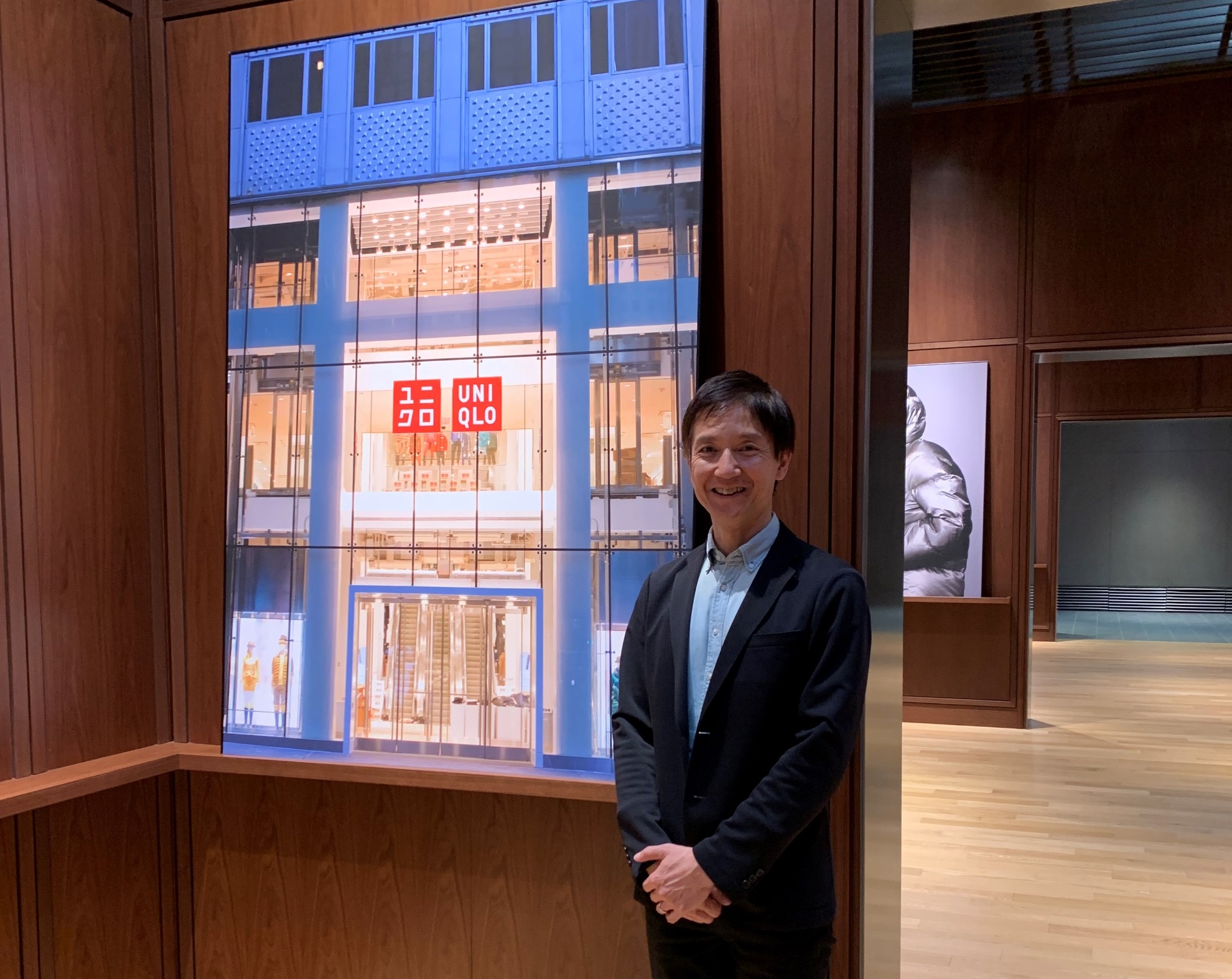 Member Introduction UNIQLO: Creating Champions Through Collegial Collaborations
19 November 2019
| Written by

administrator
(日本語は英語の後に続きます)
Despite the word "uni" in its name, UNIQLO's business strategy is anything but "unilateral". In recent years this iconic Japanese clothing brand has continued to climb up the competitive curve by outfitting themselves with a multicolored, multilateral, and multilayered approach to apparel. Indeed, one could even argue that this approach of theirs has "united" a whole shelfful of different people, ideas, and values from all four corners of the world. SCCJ visited Mr. Masahiro Endo at UNIQLO's global headquarters in Ariake, Koto-ku, Tokyo to learn more about their basic principles and especially about their new project with the Swedish national team in the 2020 Tokyo and 2022 Beijing Olympic and Paralympic games.
Mr. Endo is the Director of the 2020/2022 Olympic and Paralympic Project. With a team of colleagues based in Tokyo, Paris, New York, Shanghai,  London and Stockholm, he is the man captained to lead this unique collaboration between UNIQLO and Team Sweden until the Olympic cauldron's flame disappears in Beijing in 2022. According to Mr. Endo, it was Swedish Olympic Committee CEO Peter Reinebo who initially relayed Team Sweden's intent to them: "UNIQLO opened its first store in Stockholm in August 2018. It was after the store's opening ceremony that Mr. Reinebo contacted us, saying, 'We are looking for an Olympic partner. Would UNIQLO be interested?'. That was the beginning of our collaboration. Everything moved forward very smoothly from there and on January 24, 2019 we hosted a joint press conference here in Tokyo".
As UNIQLO began passing the ball backwards and forwards with Mr. Reinebo and his team since 2018, Mr. Endo quickly realized that what Swedish people value was very much in line with that of UNIQLO's:
"The three key elements quality, innovation, and sustainability were well synchronized. We believed in and upheld very similar values".
Hence, it is no surprise that both sides saw eye-to-eye in creating apparel that would support the athletes both on-and-off the pitch; Messrs Reinebo and Endo also agreed to make high quality and eco-friendly clothes through innovation.
"Because Japan is a hot and humid country, we needed to provide products that could keep the athletes feeling comfortable even when they aren't competing. A lot of these products use the same fabrics already used in our DRY-EX and AIRism. We have also used other innovative fabrics that aren't available at our stores right now. I'd also like to amplify that we didn't hesitate to use sustainable fabrics such as recycled materials even for these Olympic and Paralympic outfits" commented Mr. Endo.
Although this is the first time UNIQLO is providing sportswear to an entire team, the company already has a solid track record in partnering with professional athletes through their Global Brand Ambassadors program. "We first provided our clothing to Shingo Kunieda— a top ranked Japanese wheelchair tennis player. We have been collaborating with Japanese tennis player Kei Nishikori (ranked world number eight as of October 21, 2019) for the past several years; recently we started working with top world player Roger Federer, too. Other than tennis, for example, we also have Australian golfer Adam Scott, British wheelchair tennis player Gordon Reid MBE and Japanese snowboarder Ayumu Hirano as our Global Brand Ambassadors" explained Mr. Endo.
Over the years, the company has scooped up and reflected the valuable insights provided by these ambassadors in their product line up. "The feedback we received from Kei Nishikori and Roger Federer has been used to improve our product line up. With the help of Adam Scott, we even created a new men's product called 'Kando Pants'. These have been available for purchase at our stores globally for a number of years," commented Mr. Endo.
One of the biggest responsibilities Mr. Endo is tasked with in this project is to ensure that the feedback and know-how obtained from Team Sweden trickles down and crystalizes at a product level. "This is paramount for us to continue innovating our product line up going forward" explained Mr. Endo.
Mr. Endo and his team consider this collaboration a prime opportunity for UNIQLO to further solidify their business footing, increase their brand recognition, and set new world records in the coming decade and beyond:
"We are very honored that the Swedish people—whom I believe live one of the most sophisticated lifestyles in the world—chose UNIQLO as their partner brand. We would very much like our customers to associate our brand with the lifestyles upheld by Swedes […] At the same time, we would like to strengthen UNIQLO's brand positioning as a 'LifeWear' brand. This might sound counter-intuitive, but we don't see ourselves as a 'fast-fashion' brand. Our mission is to provide simply designed innovative apparel that can be worn not just for one season but over the long run. We place a great deal of emphasis on "sustainability". This is why 'LifeWear' is our brand identity"
emphasized Mr. Endo.
By fostering a collegial atmosphere with a like-minded organization such as the Swedish Olympic and Paralympic team, the world can no doubt witness UNIQLO reach new heights.
We would like to extend a warm welcome to UNIQLO Co., Ltd as a new member of SCCJ. You can find out more about them at: https://www.uniqlo.com/jp/
---
英語で"単一の"という意味がある"uni"が社名に入っているものの、ユニクロのビジネス戦略は決して"単一で一方的な"ものではない。近年、この日本を代表する衣料ブランドは、色とりどりで多面的、層の厚い製品をそろえたことで成長曲線を駆け上がってきた。確かに、このアプローチによって世界中の異なるアイデアや価値観を持った多くの人々が一つになったということもできるだろう。今回SCCJは東京都江東区にあるユニクロのグローバル本社を訪ね、遠藤真廣氏に企業の理念やスウェーデンのナショナルチームとの2020年東京オリンピックや2022年の北京オリンピックにおけるプロジェクトについて話を聞いた。
遠藤氏は2020/2022オリンピック・パラリンピックプロジェクトで部長を務めている。チームは東京、パリ、ニューヨーク、上海、ロンドン、ストックホルムに拠点を構え、彼は2022年に北京で聖火の火が消えるまでユニクロとチームスウェーデンのコラボレーションプロジェクトを率いることになっている。遠藤氏によるとチームスウェーデンの考えを最初に伝えてきたのはスウェーデンのオリンピック委員会で会長を務めるPeter Reinebo氏からだったという。「ユニクロは2018年の8月にストックホルムでスウェーデンの第一号店をオープンしました。Reinebo氏が"オリンピックのパートナーを探している。ユニクロは興味があるか"と連絡を取ってきたのは店のオープンセレモニーの後でした。それが我々のコラボレーションの始まりでした。そこからあらゆることが順調に進み、2019年の1月24日にここ東京で、スウェーデン・オリンピック委員会と共に合同記者会見を開いたのです。」
2018年以降、ユニクロがReinebo氏や彼のチームとやり取りを重ねる中で、遠藤氏はスウェーデンの人たちが大切にしていることがユニクロのそれとよく似ていることにすぐ気づいたという。
「3つの要素―品質・革新性・持続可能性―は我々の理念と重なっていました。我々が信じ守ってきたものとよく似ていたのです。」
だからこそ、スウェーデン側とユニクロ双方が、ピッチの内外でアスリートをサポートできる衣類を作るということで一致したのだ。Reinebo氏と遠藤氏はイノベーションを通して、品質が高く地球にも優しい服を作ろうということでも同意した。
「日本は高温多湿の国なので、アスリートが競技中以外でも快適さを保ちつづけることができる製品を作る必要がありました。これらのウエアは我々のもつDRY-EXやエアリズムなどの快適素材や、まだストアでは販売していない革新的な素材も使いました。そして、私たちが大切にしたのは、たとえオリンピックやパラリンピックのための衣類であっても、リサイクル素材を中心にした環境配慮型素材をためらわなかったということです。」と遠藤氏は言う。
ユニクロが一つのチーム全体にスポーツウエアを提供するのはこれが初めてだったが、既にユニクロにはグローバルブランドアンバサダープログラムを通じてプロのアスリートに衣類を提供してきた確かな実績があった。「私たちはまず始めに、世界の第一線で活躍する車いすテニスプレーヤーの国枝慎吾選手にユニフォームを提供しました。そのあと、テニスの錦織圭選手(2019年10月21日時点で世界ランク第8位)にもこの数年間ウエアを提供しています。最近はロジャー・フェデラー選手にも制作しています。テニス以外ではオーストラリア人のゴルファー、アダム・スコット選手やイギリスの車いすテニスプレイヤーのゴードン・リード選手、日本のスノーボーダー平野歩夢選手も我々のグローバルブランドアンバサダーを務めています。」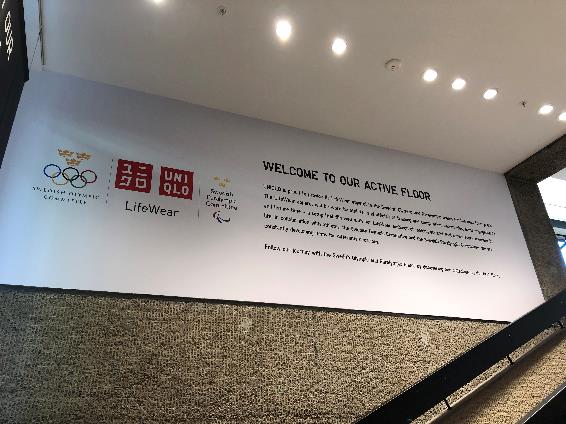 長きにわたり、ユニクロはアンバサダーを務めるアスリートから得た貴重な意見をくみ取り、製品ラインナップに反映させてきた。「錦織選手やフェデラー選手からきたフィードバックは、我々の製品ラインアップを改善するのに役立っています。また、アダム・スコット選手のおかげで、新たなメンズ用の製品"感動パンツ"が生まれました。これらの製品は私たちのストアで販売され、長い間、お客様から支持されてきました。」と遠藤氏は語る。
遠藤氏がこのプロジェクトで任されている最も大きな任務の一つが、チームスウェーデンから得たフィードバックやノウハウを製品レベルに浸透させ、具体化させることだ。「これは我々の製品ラインナップをより良く改良し続けるためにとても大事なことです。」
遠藤氏と彼のチームはこのコラボレーションを、ユニクロが経営基盤をより強固なものにし、ブランドに対する認知度を高め、今後世界記録を塗り替えていくために最も大切な機会であると考えている。
「我々は、世界で最も洗練されたライフスタイルを持つスウェーデン人がユニクロをオリンピックのパートナーブランドとして選んでくれたことをとても誇りに思います。(中略) 同時に、ユニクロのブランドを"ライフウエアブランド"として強化していきたいと考えています。これについてはあまりピンと来ないかもしれませんが、我々はユニクロが"ファストファッションブランド"であるとは思っていません。我々のミッションは、ワンシーズンではなく長期にわたって着られる、シンプルにデザインされた革新的な衣服を提供することです。私たちは"サステイナビリティ―"を特に重要視しています。"ライフウエア"とは我々のブランドアイデンティティなのです。」
と遠藤氏は強調する。
スウェーデンのオリンピック及びパラリンピック委員会のように、同じ志を持った組織とユニクロが対等の雰囲気を育てることで、世界はユニクロが新しい高みに達するのを間違いなく見届けるだろう。
株式会社ユニクロをSCCJの新しいメンバーとして心より歓迎いたします。会社について詳しくはこちらからご覧になれます。